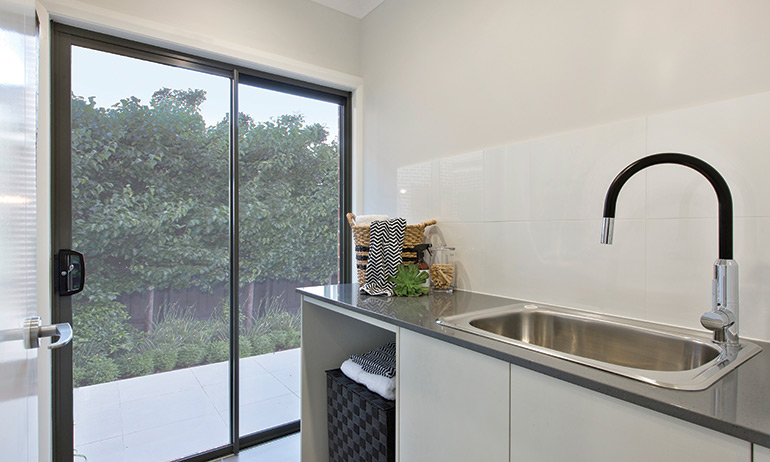 Posted on 13th December 2016
On Trend with James Treble - Laundry
The laundry, it's not everyone's favourite room but certainly one of the most used rooms in the home. Listen to James Treble give a few designer tips on how to style your laundry for aesthetics and practicality to make it a more enjoyable room to work in.
Transcript
I don't think I have ever met anyone who says they love spending time in the laundry. And yet this is one of the most important rooms of the house and one that we use every day. It doesn't have to be the ugly and forgotten room.
Your standard laundry comes with a free-standing metal tub and a stainless steel bowl. Depending on your space and your budget, you can easily change this laundry into a beautiful space with a few simple improvements.
This design is a very clever way to add to the function of this room while still keeping an eye on the budget. Here we have added a built-in cabinet with bench space and a drop-in laundry sink. There is an allowance for the washing machine, giving a nice built-in look. The drier can be wall mounted, and this is important because it frees useful bench space. In this example, we have polyurethane doors with a flat profile, 20 mm stone benchtop and an elegantly tiled splashback. Of course, this design will still be effective if using laminate doors and a laminate benchtop, allowing you to watch your budget but still get great results.
This is the next step to a beautiful and functional laundry design. We have a cabinet underneath a stone benchtop with a built-in tub. But we also have a wall-mounted cabinet above the tub allowing us to store all the nasty chemicals away from the kids.
Now, here's an important tip: surface finishes are very effective at improving every space. As the laundry is only a small space, why not consider upgrading the splashback tiles to something luxurious. It will give great bang for your buck and add that wow factor.
As we all know storage is essential, so you should add as much cabinetry as you can on bottom and top. Tall cabinetry will be also very valuable to store brooms and other tall equipment, and extra bench space will be necessary if you have a busy family or just a busy life. But remember, the devil is in the detail. Small elements like push-button handless doors and overhead hanging-rails will finally add both function and form to your space.
A nice deep 45 L drop-in tub is perfect for all the family's needs, and a swivel tap will also be useful. But why not consider upgrading the tap to being a pull-out mixer. This way you don't have to lift up the bucket when needing to fill it.