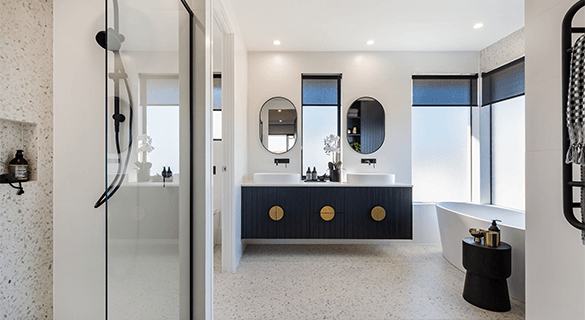 James Treble's Top Trends to Inspire Your Bathroom in 2022
James Treble's Top Trends to Inspire Your Bathroom in 2022
There's no doubt about it: bathrooms are one of the most used rooms in your home.
Aside from being essential, they're also a space for indulgence. In fact, bathrooms are one of your home's most important design spaces.
With this in mind, Eden Brae Homes spoke to leading Australian Interior Designer James Treble to discover his top bathroom design trends for 2022.
Trend one: Playing with patterns
2022 is the year to get creative with tile patterns, according to James, and the choices are almost endless. Tile patterns is a trend that can be incorporated on any budget, too, working equally well across an entire room or a feature wall.
A simple but effective technique James uses to play with patterns is changing how tiles are laid.
"Instead of using the standard stack bond approach – where tiles are stacked on top of one another to create continuous vertical or horizontal straight lines – switch to brick bond tiling where your tiles are offset to create a finish like brickwork," James suggests.
James also recommends using vertical stack bond tiles instead of smaller format horizontal tiles to add detail and linear interest to switch things up.
Another on-trend way to play with patterns is with unconventionally shaped tiles. James favours the popular herringbone tile, given its versatility and ability to work across styles –he's used herringbone tiles to create stunning bathrooms for Hamptons inspired, coastal and modern contemporary homes.
However, James likes to "really turn up the volume" by using double herringbone – an effect you can check out in Eden Brae Homes'.
James is also a huge fan of using handmade tiles to create a subtle pattern effect for walls and splashbacks.
"They're really beautiful and interesting to look at, with the gorgeous undulating surface you find with handmade items," James says. "Best of all, they're versatile. I'm using them to create everything from a coastal feel to the modern farmhouse look."
Trend two: Making a statement with metallic tapware
Metallic finishes are making a comeback in all areas of design, according to James, and bathroom designers are embracing this trend to provide exciting new tapware options.
"We all know chrome finishes are the go-to favourite for tapware because they're timeless and work with both modern and classic designs. But there are brilliant metallic alternatives which could soon join the ranks of the classics," James says.
One of his new favourites is brushed brass because it works well in any interior scheme – from warm tones to modern greys. It's also incredibly calming, thanks to its natural texture and organic feel.
However, James' absolute new favourite finish is brushed nickel.
"It looks similar to stainless steel but has a hint of black to provide an exceptionally sophisticated finish," James says. "It perfectly suits a range of interiors, from a cool coastal vibe right through to a high-end modern home."
James believes the best thing about this latest trend is that it's making what were previously considered artisan options more accessible. He says, "There've always been a few tapware suppliers offering bespoke finishes for metallics, but with a price tag to match. This year, I'm seeing significantly more suppliers expand their ranges from the everyday chrome and gold to incorporate nickel, copper, brass and stainless steel, matt blacks and whites."
Better still, Eden Brae Home's Prestige Package offers metallic tapware options and matching accessories like towels rails and toilet roll holders. James believes this is a "good bang for buck" upgrade, creating a stylish look in an important space you'll use every day.
Trend three: Lighting love
In James' opinion, lighting is not given enough consideration in bathrooms – it's often understated or even overlooked completely, so this bathroom trend is a welcome relief.
"Many people think about their beautiful tiles and finishes and how they look, often making this decision in a well-lit showroom in the middle of the day. And yet, the reality is, many of us are at work during the day. We spend most of our time, especially from Monday to Friday, in our homes at night. So lighting choice is incredibly important," James says.
As a starting point, James suggests lots of ambient downlights to ensure you have enough bright lighting to see yourself properly in the bathroom mirror for washing and cleaning, applying makeup and shaving.
But bathrooms are also a pampering space, so James believes it's worth investing in feature lighting to elevate the room.
Budget permitting, James recommends adding wall lights – known as sconces – on either side of your mirror to provide well-balanced lighting. He says, "Designer stores use side lighting to make you look great, so replicate this trick at home!"
Even if you're watching your budget, investing in pendant lights for your bathroom can be a smart option. James favours hanging pendant lights to the side of your vanity to create the same effect as wall sconces. He recommends hanging one light, offset for impact, in smaller spaces like powder rooms.
James believes lighting is a great way to add that wow factor for a relatively small investment. "Never underestimate the value of bathroom lighting. Make sure you get a full electrical plan when you're building that prioritises your bathroom and powder rooms," James says.
Interested to learn more? Visit the Eden Brae Homes website for more design tips, including videos, from James.