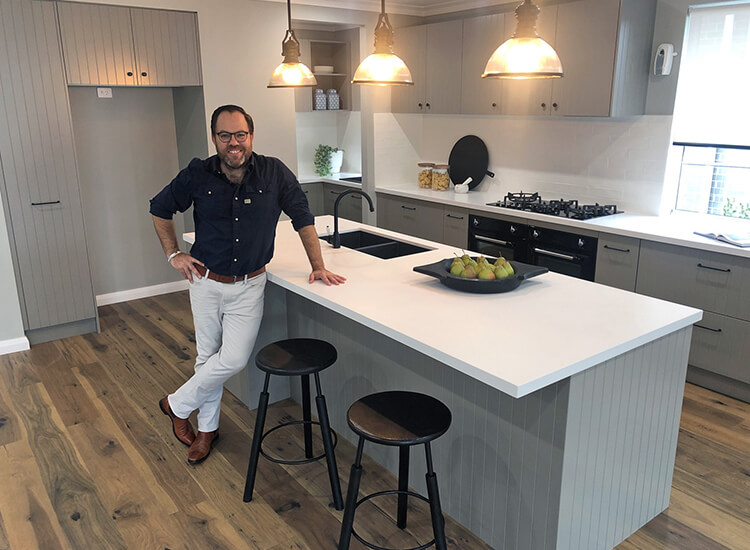 Video | Display Home Tour
Posted on 13th August 2020
Tour with James Treble: the Glenburn 30
Enter the Glenburn and you know you are in a wonderfully stylish home suitable for growing families. This four bedroom home with a centrally located lounge, bathroom and kids area highlights the thoughtful and practical open plan layout. You can enjoy year round entertaining with a functional and spacious kitchen and walk in pantry with living and dining spaces which open to a beautiful alfresco area. This is a high comfort home which is sure to delight.
Transcript
Welcome to Waterford Living in Chisholm, in the beautiful Hunter region. I'm super excited about this home, not only because it's a new design, but it's one of three brand new display homes that the team at Eden Brae and I have been working on for months. The Glenburn 30 has four bedrooms and three separate living areas, with a really functional layout. But enough talk, let me show it to you.
How beautiful is this home? The three family bedrooms are located off their own separate hallway, creating a nice and quiet sleeping area that's very private. Each of them is of a great size and there is a combination of built-in and walk-in robes, so plenty of storage options. They are separated by this kids' area, one of three separate living areas of this home's design. This is very practical, because it creates a nice kid's zone, where they can make noise, watch their movies and hang out with their friends away from the rest of the house. There is also plenty of storage in this home, as you can see, a three-door linen cabinet, and there is plenty of room to add additional storage, like we have, with this very functional mud room. It a very functional addition to this home and a perfect dumping zone for the kids that still keeps them organised.
The light filled laundry is also located in this area. It's such a great size that you can easily add storage and benchspace like we have here.
A great and functional feature of this home is this centrally located bathroom. It's a great size for a busy family, but it also has two doors, and that is not only functional, but it adds further to the feeling of space in this already large family home. The inclusion of a separate toilet is a great addition for any busy family, but it also has its own vanity, so it creates a powered-room, perfect for your family and for your guests.
A generous opening like this perfectly links the lounge room with the rest of the home, but a clever addition of a door here allows this room to become a separate zone, possibly a home theatre.
How big is this room? As you can see the Glenburn 30 has so much space with a really generous family room, flowing onto the dining and then this really well-appointed kitchen, creating the perfect open-plan living area that is flooded with natural light. The kitchen is a great size, providing a great amount of storage and benchspace, perfect for creating the family meal, or for entertaining. The fridge space is also very generous, allowing you to fit in the largest of fridges or additional storage. The pantry is also a great size. We've added additional storage, benchspace and a sink, creating a true butler's pantry.
The large master bedroom is located at the rear of the home, with great views out to the garden, it creates a parents' sanctuary, away from the rest of the house. The generous walk-in robe provides plenty of storage options, and the ensuite is also a great size, providing plenty of space for double basins, benchspace and storage.
The way that one space flows beautifully to the next is part of the success of this Glenburn 30's design and that continues as we flow from the living area, through this large glass doors, out to the alfresco. As you can see the Glenburn 30 is a beautiful design and we're excited about. You can come to the Hunter region and walk through this exciting home yourself, here at Waterford Living in Chisholm. Or why not go online and find out more details, plus do the virtual tour, at edenbraehomes.com.au.