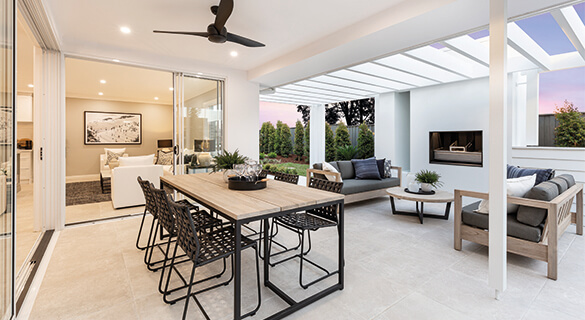 Posted on 11th November 2021
How to create the perfect alfresco space
Alfresco dining and outdoor entertaining are a classic part of the Australian lifestyle. Who doesn't love sitting down for a drink and a meal with friends and family as the sun sets on a fine summer's day? If you're fantasising about these moments in your new Eden Brae home, here are some considerations to make your dream a reality.
Indoors or outdoors – it's all the same with an Eden Brae Home
Australians' love of indoor-outdoor living makes the addition of an alfresco entertaining space the natural choice for socialising with family and friends. Eden Brae's homes are designed to flow naturally between indoors and outdoors to maximise Australia's climate.
With features such as stacker doors, your alfresco area becomes an extension of your home, with flexibility to separate or combine your indoors and outdoors. Close in your alfresco so that it becomes, in effect, another room that can be used all year round. Or, at other times, keep everything open to ensure family and guests feel part of the same party whether they are sitting inside or outside.
Scale
Whether you're hosting a small family gathering or an eat-till-you-burst barbeque for the neighbours, ensure your barbeque, refrigerators and storage match your scale. We recommend going above three burners for a barbeque to ensure that guests can enjoy grilled meats, veggies and seafood at the same time. What's more, a sizeable outdoor fridge or freezer can store your drinks and meat cuts, ensuring you don't overfill your kitchen fridge.
It's also important to think about the scale of your outdoor furniture and where it will go. If your alfresco area is large enough, a separate break-out area with a comfy outdoor sofa and chairs works well, as does the all-important dining table.
Outlook
Think about the visual appeal of your alfresco area. This will influence how often it's used. Does it overlook vibrant flower beds or an inviting pool? Or will an outdoor fireplace attract family and guests alike?
Future-proofing
To enjoy your alfresco space year-round, be sure to tell your consultant or CSA if you would like utility points to be installed for future use.
For instance, including a power point in the ceiling gives you the option of later adding an electric outdoor heater. Likewise, installing an additional gas tap enables outdoor gas heaters for those cooler evening. And for comfort on hot Aussie summer days, consider installing ceiling fans.
An extra gas tap is also useful if you decide later to add an outdoor kitchen or built-in barbeque to your outdoor entertaining area. A sink is an important feature of an outdoor kitchen, so as well as a gas tap and outdoor power points, you'll also need hot and cold water points.
Durability
Whether you're looking to host once a summer or every weekend, choose comfortable and durable materials that can handle the extremes of Aussie weather. For furniture, choose hardwoods like teak and eucalyptus or metals like aluminium and steel that stand up to years of rain, hail and shine.
Keep these key aspects front and centre when designing your alfresco entertaining area and you'll enjoy a low-maintenance, beautiful living space that flows seamlessly from indoor to outdoor. If you've got more questions about designing your outdoor entertaining area with Eden Brae, give us a call on 1300 645 860.