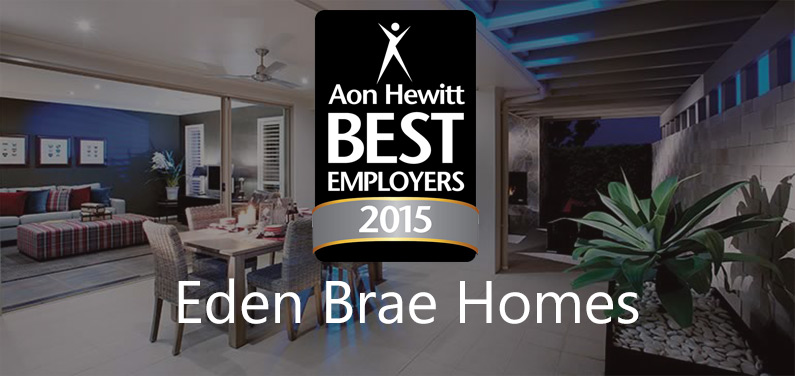 Posted on 21st October 2015
EBH awarded an Aon Hewitt Best Employer of 2015
EBH awarded an Aon Hewitt Best Employer of 2015
Source: Aon Hewitt
Date: Thursday, 04 June 2015
Eden Brae Homes has been awarded with the accreditation of being a Aon Hewitt Best Employer 2015.
Last year we set out on a pathway to measure our staff engagement through an independent survey. All staff members completed an online survey that consisted of 81 questions categorised into areas such as Engagement, Brand, Career Opportunities, Change Management, Communication, Customer Focus, Diversity & Inclusion, and Empowerment/Autonomy.
This survey was completed by companies across all business sectors within Australia and New Zealand. Through the results and data that is obtained from the surveys that we completed, Aon Hewitt pick 15 companies from across Australia and New Zealand to award with the title and accreditation of Aon Hewitt Best Employer 2015.
We are 1 of 15 other companies that were awarded. Some of the 15 were companies such as: Fed Ex, Marriott Hotels, Microsoft, Renault, Hilti, Seek.
We received an employee engagement score of 92% based on the answers received in the surveys under the category of engagement. This was the highest score received by any company. The average score for Australia and New Zealand high performance for employee engagement is 66%.
Aon Hewitt reported our strengths as being:
Promoting from within the organisation
Developing clear pathways training for all staff
Enabling an appropriate work life balance
Establishing clear, defined and measurable work tasks.
Of course there is always room for improvement and that is what we are striving towards. We will continue to grow and improve, while maintaining our focus to always be a Best Employer.
Our other standout was that we unite our people through our values which are determined by our 7 Foundations.
Being a Best Employer is a responsibility on all of us. We all need to stay strong on our 7 Foundations and not allow anyone or any situation compromise our values.
I believe that if we stay true to our values there is no reason why we can't maintain this accreditation and further improve our engagement score.
Congratulations everyone on this outstanding result that no other builder in Australia or New Zealand received.
It truly was a collective effort from everyone. Thank you.