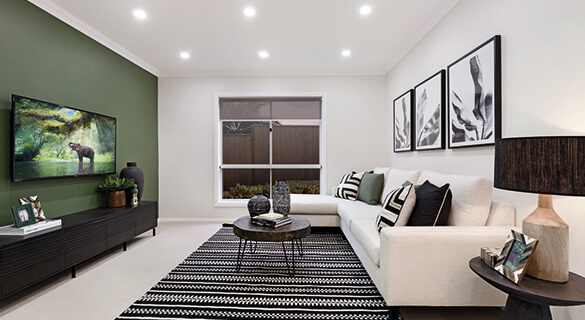 Posted on 21st February 2022
Electrical considerations when building a new home
Power and lighting – what to consider when building a new home
You've arranged all your furniture, your floor is sparkling, and your living room seems like it belongs in Vogue Australia – if not for the black TV cable snaking across your floor!
To avoid unsightly cables and leads in your pristine new home, and to be sure that the lighting is functional (as well as flattering), there are certain considerations to be made when choosing your new home design. In this case, the floorplan is your best friend.
1. Placement
As you'll appreciate, putting power points and light fittings in the right places is vital.
But before you even think about what lighting or power options you'd like, consider the function of each room first. This will influence exactly where your power points and lights are installed.
For example, do you need a power point for a TV in a particular room? Or one for your vacuum cleaner? What about your Christmas tree lights – will they be close to a power point? And when your kids are studying in the kitchen or in their bedrooms, will they have sufficient power points for their laptops or tablets?
2. Functionality
With regards to lighting, do you want ambient or natural light? You may want warm yellows in your cosy bedroom but brilliant whites in your study to keep you focused. And how much control do you want over the level of lighting. Do you want to be able to dim lighting for dinner parties and turn it up for reading?
Lighting is so flexible – as well as ceiling and wall light fittings, it's so easy to use floor lamps, step lights, table lamps and reading lamps.
Consider, too, whether you'd like to install automated lighting, movement sensors, climate control, Bluetooth capabilities or smart-home dashboards. These days, the possibilities are endless. Fortunately, our partners at Home Smart Innovations are well-equipped to meet your smart home needs.
3. Practicality
Just as importantly, consider potential trip hazards. When you're working from the dining table, will you need an extension cord from the nearest power point to your laptop, for example? The cord could be a trip hazard.
(If you'd like to get away from the dinner table entirely, check out this article on building a home office.)
Of course, practicality goes hand in hand with style. Eden Brae Homes' interior designer James Treble recommends wall-mounted TVs as a stylish and elegant option in your home.
What's more, your consultant from Quiklec can help organise your AV cables into your walling, taking the tangles of wire out of eyesight, leaving your living room feeling spacious and clutter-free.
4. Cost
A quick tip from our partners at Home Smart Innovations: when building a two-storey home, install your electrical components (especially on the ground floor) during the build rather than after to save thousands long term.
However, we understand there are many electrical needs to consider, all while staying within your budget. Don't be afraid to give Eden Brae Homes a ring at 1300 645 860 for extra assistance when building your new home.