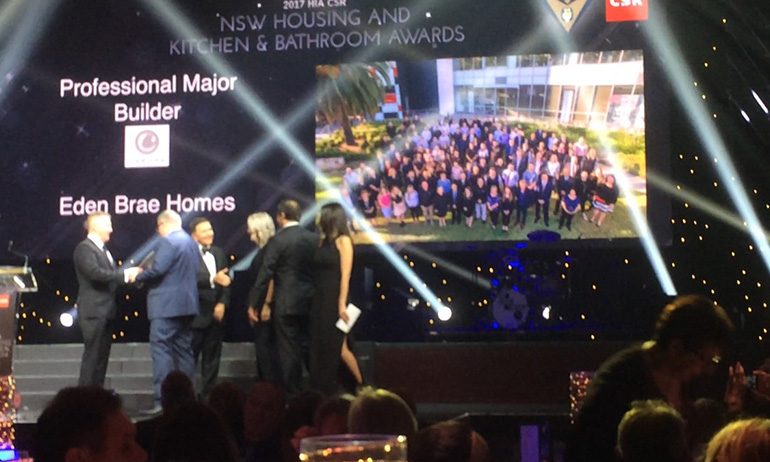 Posted on 17th October 2017
Eden Brae Homes' Prestigious Double Award Win
Celebration was in the air at Sydney's famous The Star Casino last Saturday night, 14 October, as Eden Brae Homes was announced as winner of not one, but two categories in the prestigious 2017 HIA CSR NSW Housing, Kitchens & Bathrooms Awards.
For an impressive eleventh time, Eden Brae took out the coveted NSW Professional Major Builder Award. Achieving such recognition in the increasingly competitive housing industry is a real testament to our commitment to excellence in everything we do. We worked so hard throughout the year to put our values into action and this win is thanks to the tireless efforts of each and every team member to achieve our business goals.
In choosing the winner of the Professional Major Builder Award, the HIA pays special attention to a company's ability to provide excellence in customer service, and looks closely at business practices relating to ethical conduct and sound financial management. Judges said, "A strong culture and a commitment to innovation together with identifying challenges facing customers has highlighted why Eden Brae Homes is a standout applicant."
The award also examines how a business shows effective leadership, seeking evidence of a genuine commitment to continuous improvement in every aspect of operations. The judging panel highlighted how Eden Brae demonstrates this, saying, "By challenging their staff's thinking, they strive for constant improvement by offering alternative thinking."
Eden Brae was also thrilled to win the Work Health & Safety Award. This is a truly significant achievement because it recognises that Eden Brae always puts the safety of our customers and staff before anything else. This award rightly acknowledges the outstanding contributions from the entire Eden Brae team towards creating a safer working environment for everybody.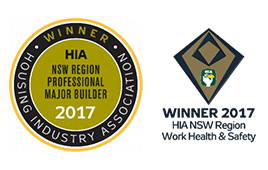 Judges were fulsome in their praise when announcing Eden Brae as winners of this major award. "Eden Brae Homes has a clear, well communicated and coherent approach to embedding safety in the workplace landscape. Their commitment is evident from the top level to the operational level, including a demonstrated connection between good safety performance and good business performance. The value and investment in the team is to be commended."
Once again Eden Brae Homes has proved itself to be at the top of its game and a deserving winner amongst its peers. Congratulations everyone!