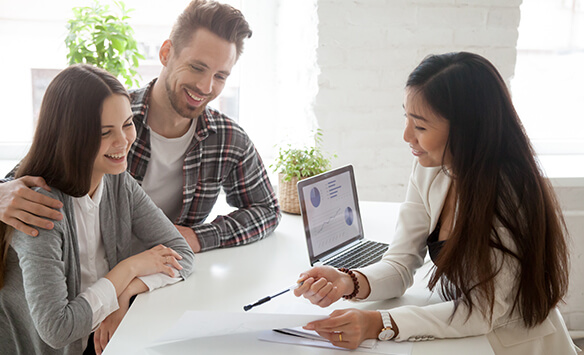 Posted on 21st August 2021
A beginner's guide to financing your home
You've swapped the café lattes for instant coffee, ditched the avocado, and penny-pinched your way to building your first home. Congrats! This is a huge life decision. When financing it, you'll obviously want a mortgage that's within your means, that offers affordable terms with no strings and hidden fees attached.
There's no one right way to finance your home. The most common way to find a loan is going to a mortgage broker or directly to a bank. Both options have benefits, depending on your financial situation.
Why mortgage brokers?
A broker acts as the go-between you and lenders, helping you navigate the veritable maze of mortgages from banks and other financial lending institutions.
Mortgage brokers…
Gather as much information as they can on your income, assets and liabilities, savings history and credit score to understand your financial situation and how much can you afford to borrow.
Consider your preferences, such as whether you'd like a fixed or variable rate, principal + interest or interest-only for the first five years, preferred loan length, and more.
Shortlist an array of loan packages from different lenders based on your financial goals.
Going to a broker often saves time and money. They handle much of the tedium of the application process, have industry insights and take away the stress of trawling through a variety of loan packages from different banks. Brokers are an excellent choice if you're time-poor.
Why banks?
Banks…
Speak directly with you, avoiding any miscommunications you might have through a third party such as a broker.
May provide a lower rate by getting a loan package directly through them.
Can be much quicker than going through a broker if you already have a pre-existing relationship.
Going directly to a lender may be cheaper and more streamlined if you've got a previous relationship, given there's no broker fee on top. However, if your marriage with the first bank falls through, you'll find yourself back at square one, with limited time to traverse the labyrinth of lenders by yourself. For a first-time home builder looking to be flexible and cost-effective, it's probably best to see a broker who can understand your conditions and narrow down the packages that best fit your needs.
To help you work out what's best for you, take a look at our financial services guide. It clearly explains the financing options, including different types of loans. You'll find it on our website here. Or, give us a call on 1300 645 860.