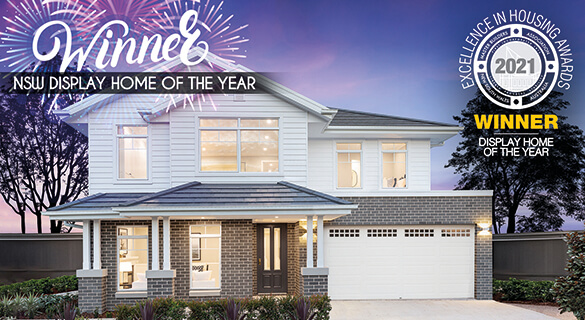 Posted on 19th November 2021
Eden Brae Homes is proud to announce that once again we have taken home gold!
This time, it was the hotly contested 2021 Master Builder Association (MBA) NSW Excellence in Housing Awards that saw our beautiful designs recognised for the amazing winners they are. We're delighted to announce three exceptional wins:
Our stunning Forsyth 33 (Personal Ensuite) won the prestigious MBA NSW Display Home of the Year. The MBA praised the home's ability to suit 'a multiple of block orientations' and its 'combination of quality of finish and value for money'.
The Forsyth 33 (on display at HomeWorld Box Hill) also won MBA Best Display Home $450,001 - $500,000.
Equally impressive, the beautiful Toorak 27 (on display at North Rothbury) won MBA Best Display Home $350,001 - $400,000.
Our popular Bristol 30 Guest Suite and luxury Waldorf 44Mk2 both on display at HomeWorld Box Hill and our newest home design, the Paddington 23 on display at North Rothbury were also stand outs by being Finalists in the MBA Display Homes categories for their price categories.
These fantastic wins and nominations are testament to the abilities and dedication of the entire Eden Brae Homes team. They also shine a well-deserved spotlight on the exceptional talent of interior designer James Treble in bringing forth the beauty of the classic Hamptons look and successfully adapting it to suit an Australian suburban lifestyle.