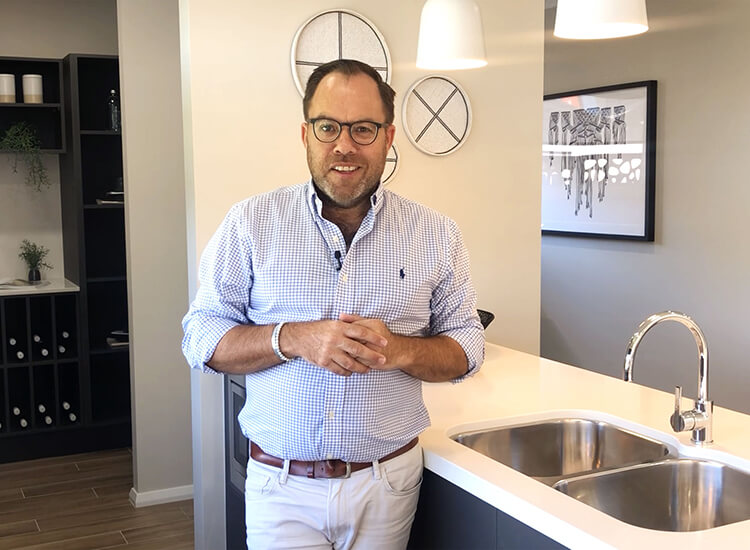 Video | Display Home Tour
Tour with James: the Newington 22 MK2
Enter the Newington and you know you're in a wonderfully stylish home. From the large living room at the front, pass four very spacious bedrooms as you walk through elegant hallway. The rear living zone is beautifully light and leads through to an optional alfresco. A generously-sized kitchen brings the dining and family areas together to create a great communal space everyone can enjoy.
Transcript
When it comes to selecting a home for you and your family it can be a little overwhelming because there are so many great floorplans on offer. I'm here at the Newington 22 MK2 in Spring Farm, and this is a multi-award-winning home, taking out both he HIA the Housing Industry Awards the Master Builders awards for its price category. So, join me as we take a walk through this home and we find out why it's so special.
The Newington 22 MK2 is a four-bedroom single-storey home by Eden Brae Homes. Now, for the façade of this home we chose the York façade, for this display, because it has an understated elegance and great street presence.
When you enter this home, you're greeted by the living room, one of this two separate living areas of this home, and next up is the four family bedrooms, creating a sleeping zone in the center of the home, which is really practical. The generous master suite of course has its own walking robe and large ensuite, and the family bathroom is perfect for the other three bedrooms with a separate toilet.
At the rear of the home is this large family, dining and kitchen, and an added feature of this floorplan is the study. It's perfectly located for the children to do their homework, and you can keep an eye on them whilst preparing the family meal.
It's a common feature to have a flow from this living area out onto the alfresco, but in this particular design we decided to remove that corner column, allowing to sliding doors to open both sides, and with no obstructions this becomes a hugely large space, perfect for entertaining.
Apart from the great floor-plan there are a couple of reasons why this particular home and EBH were separated from the rest of the pack. The judge's comments particularly highlighted the finishes that were used in this home: the benchtops, the cabinetry, the quality flooring, all of these items of course we spend a great deal of time putting together, to not only make this home look its best, but to also provide great inspiration for you and your own home.
Another important feature that the judges liked was the attention to detail overall, specifically highlighting that that attention to detail was not common in this specific price bracket. And the judges in particular loved this large splash back window with the floating cabinetry over the top. It not only provides lots of storage, but it floods this room with natural light. Of course, when it comes to building your own home, that attention to detail is something that you should expect from your builder.
This multi award-winning home, not only has a functional floorplan, and great attention to detail, but it's also perfectly suitable for smaller blocks. The Newington 22 MK2 is open seven days a week right here at Spring Farm, so you can come to take a walk for yourself, or jump online to take more details and do the virtual tour at edenbraehomes.com.au