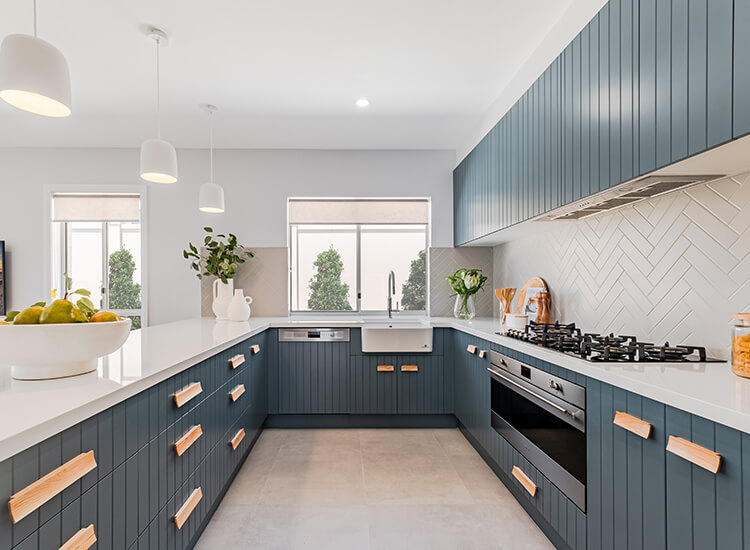 Mixing It Up In The Kitchen
Now is the time to be creative in your new kitchen and we are not talking about food. Leading kitchen design experts, Kitchen Culture is seeing a growing trend in clients wanting to mix up the finishes in their kitchen's aesthetic.
Today's kitchen designs are streamlined with many appliances now integrated into the cabinetry further enhancing a very sleek appearance. This clean and fluid look means you can have more fun with texture and colour without fear of making the space appear too busy. In fact Tess from Kitchen Culture says "Adding some rich texture like a polished brass column with a patterned stone bench top can really ensure your kitchen avoids being so clinical. Pops of colour in accessories is also a great way to personalize this space."
The kitchen is an area that has to have the right balance between functionality and style. It is such an important part of your home's design and where you are likely to spend a lot of time and visually it can make or break the appeal of your home's interior. "Modern home designs have the kitchen an integral part of the living area rather than a separate space so it's important that the kitchen links aesthetically to these other spaces. Thanks to the multiple finishes available in everything from door handles to bench tops, splashbacks, tapware and even toasters and kettles ….. There are lots of fun ways to achieve this," says Tess.
Mixing textures also adds character. The lovely natural grains of timber contrast beautifully with matt black or shiny stainless steel, brass and copper features. A white kitchen always looks fresh but Tess suggests, "A striking splashback like a coloured or patterned tile will add depth and drama. Even cabinet door handles come in such a diverse range that they alone can reflect your kitchen's personality."
Make sure the selections for your pantry are consistent with your main kitchen. If you are planning a Butler's pantry, remember that although it is located off the main kitchen area, it is still part of the overall kitchen zone.
Tess adds "New home buyers want a kitchen that ticks ALL the boxes: Beautiful, practical, stands out but still blend in, sleek and functional yet inviting, on trend but also enduring, sophisticated but family friendly. By blending textures and being even just a little brave means your kitchen can be everything you want it to be."
2021 Trend tip : Metals are in - particularly brass ascents and for pops of colour look for soft hues of pink and other pastels.