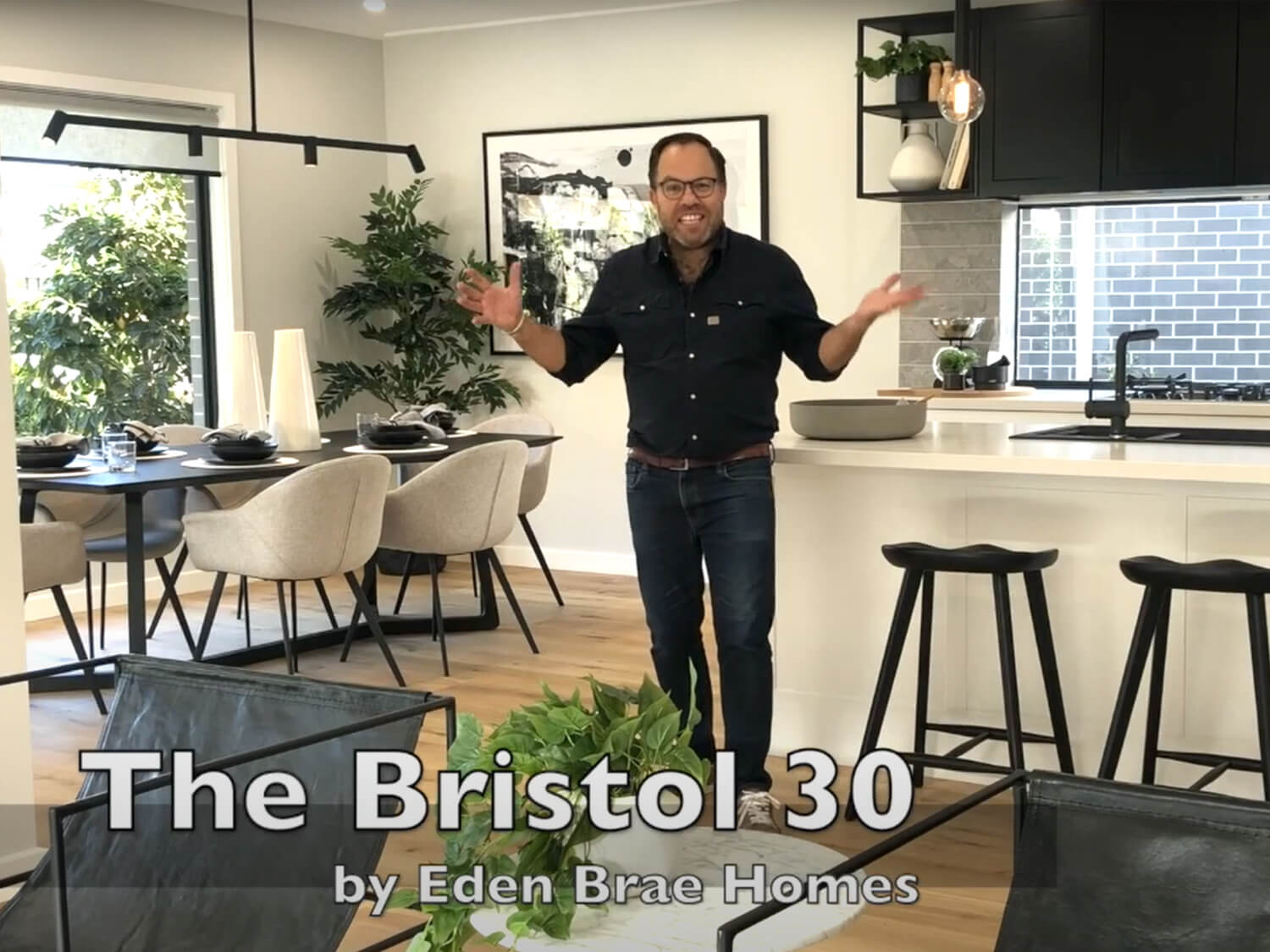 Tour With James Treble: Bristol 30 Guest Suite - Box Hill
Bristol 30 Guest Suite Option
Box Hill
Video transcript
How great is this space!? I'm here at HomeWorld Box Hill, inside the Bristol 30 Guest Suite design. This is actually one of Eden Brae's best-selling homes and I think it has a lot to do with the amount of natural light flooding into this particular space inside this design. Now, join me as we take a walkthrough this beautiful two-storey home to see what it really has to offer.
The success of this floor-plan starts the minute you enter through the front door. This home has a large and spacious feel thanks to that wide hallway, but it's also the position of this lounge room that makes this space feel really large. The lounge is one of three separate living areas of this home and is a quiet zone, away from the rest of the house, the perfect place to chillout or maybe meet with some guests when they arrive.
,p>The Bristol 30 comes in a few different configurations. This is the Bristol 30 Guest Suite design, and of course that means that it comes with a guest bedroom. It's cleverly located next to the powder-room, and that powder-room has a shower, so it does create a whole guest suite. It's the perfect feature in this home design for cross-generational living or the great location for your family and friends to come and stay as long as they like, or as long as you like.
Now, I've already given you a taste of this large open-plan living, dining and kitchen but you need to realise how big these rooms actually are. The dining room can easily cope with an oversized table and the living room has plenty of room for seating for all of your family and friends. Of course, having a great looking kitchen is always an important feature of any home, and in the Bristol 30 you've got plenty of benchspace and lots of storage options. But there's also a walk-in pantry and adding additional cabinetry and benchspace here adds even more value to your home.
But an additional feature in this home that I really love is the internal entry from the garage, because it comes in through the laundry. It's perfect for those rainy days when you bring in the kids with wet shoes and lots of bags. But it's even better on the shopping days, because you can bring your bags from the garage right through the kitchen.
The spacious feel of this floorplan continues thanks to the centrally located staircase, and the flow of the hallway upstairs. It leads out to this great size games-room. Now, it's already a generous size room, but it feels even bigger thanks to a whole wall of sliding glass doors that lead out to the front balcony. Of course you know how much I love natural light and all of that is flooding into this room. This room has a really great feel, not just the perfect destination for the kids, but for the whole family.
The first floor has such a great flow and a really practical layout. There's one bedroom located at the front of the home and then there's that oversized bathroom and separate toilet, a great addition to any home. The other two family bedrooms are next to each other at the top of the stairs, but the star of the show is this massive master suite.
This is a room of hotel proportions, a really great size master bedroom with enough area for some additional seating a really generous walk-in robe and that ensuite is a beautiful space to spend time in, of course with two basins. This is much more of a parent's destination, it feels like a hotel suite more than just a bedroom.
Of course Australian living is all about the great outdoors, and this home's design has a great flow from that open-plan living, dining and kitchen out to this great sized alfresco. You can come and take a walk through the Bristol 30 Guest Suite option right here at Homeworld Box Hill, or why not do the virtual tour online at edenbraehomes.com.au.