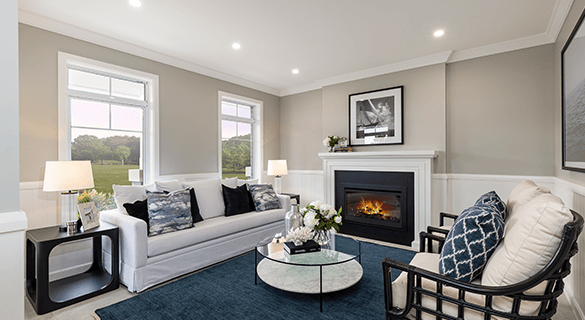 Layer Up Your Home for the coming Winter season
It's almost Winter, prepare your home with these tips.
Whilst stews and hearty soups are top of the list for nourishing winter meals, the cooler days and nights don't have to mean an end to bare feet. Here's some quick advice from Eden Brae of the fun and functional ways to make your home as snug as possible in the chillier months ahead.
Keep your air conditioning in perfect working order
Whether you prefer the control of split service air-conditioning or the whole house coverage of a ducted system, getting your heating serviced is vital. A good tune-up will save you money on energy costs in the long run. It'll keep your air clear and crisp, and free of any pesky allergens and other particles, too. Ducted or unducted, a regular service will ensure that instead of shuffling about in a blanket, you'll be able to glide barefoot from heated room to heated room.
The comfort of a real flame fire
Whilst Santa isn't coming down any chimneys during an Australian winter, you'll want to keep your gas fire is clear of grime for your own sake! A safely working gas log fire is a stunning addition to any living room. A good regular service will ensure your fire is in tip-top condition, the ignition is safe and the logs are sparkling.
Window coverings, fit for the season
As much as we love our windows when the sun's out, we may feel slightly exposed with only sheers to protect us from the elements. Swapping for lined curtains or roller blinds will keep the heat in and the July mornings out.
Soft furniture and a warm heart…
A love of all things furry and soft comes into its own during the harsh winter months. Wool rugs soften the look and feel of a hard floor, giving comfort underfoot. Throws and cushions are an excellent investment in warmth and texture. And if you plan on spending a few frosty weekends firmly under the covers, a well-suited doona will make it all too easy.
At Eden Brae, we build sustainably designed homes that meet your needs and dreams, regardless of the temperature outside the front door. If you've got more questions about layering up your home for the cold nights ahead, give us a ring at 1300 645 860.