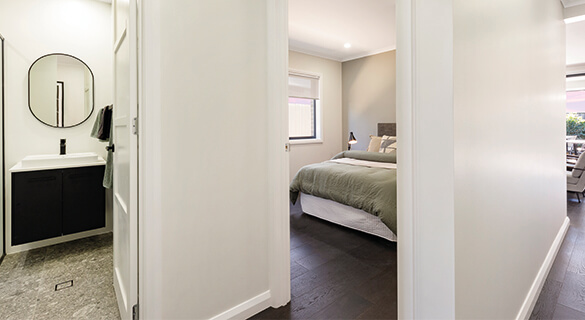 Posted on 11th November 2021
Building Your Home For the Future
Australians' relationships with their homes is forever changing. As many homes take on a dual role as a workplace or become multi-generational living spaces, it's important that their features meet the long-term needs of the occupants far into the future whether you choose to live in the home for many years or potential future resale down the track. Consider the following ideas when building your home for the future:
Choosing the right façade and finishes should not be underestimated as it adds considerable value to your overall street appeal. Research a variety of appealing facades to suit your home design. Appealing facades will encourage prospective buyers to attend an inspection. Choose a façade consistent with the area and that will 'hold its age' well. Dedicate a reasonable budget to your façade and consider its style. Consider using an entirely face brick or render or a mix of materials.
Bedrooms and bathrooms are areas that can be redesigned to suit your needs not only today but in the future. Adding a study is a great way to solve a large family's biggest bugbear -lack of privacy. By adding on an adjacent powder room, the study instantly becomes a guest suite, ideal for overnight guests. Additionally, you could consider a two-way powder room connected to the lounge and guest bedroom which would provide seclusion for guests and working family members whilst being practical for when the family comes together. Take time to think about the placement of your master bedroom – would you consider placing it at the rear of the home which would give you the flexibility for those working irregular hours? Alternatively, a downstairs bedroom/ensuite/shower is an excellent option for middle aged family members wanting to remain in a two-storey home longer or for ease of use for elderly co-habiting relatives.
Safety first for young and old is so important. Step-free thresholds are perfect for the front door, alfresco door and showers. Generous 1.2m deep x 1m wide thresholds ensure that prams or walkers won't roll away and lower the chance of nasty trips or falls.
Within the home wider doors and hallways and higher ceilings – will be a small outlay at the beginning however these will make a big difference long term. Higher ceilings let in more light and give the illusion of greater space, even for homes on smaller blocks. Opt for higher ceilings for entries and the ground floor where most family activity happens.
Inexpensive structural features can also add significant resale appeal in the future. Considerations such as recessed ceilings in the kitchen, master bedroom or main lounge room will add that something 'extra' that can set your home apart. This goes for the inclusions of niches as well. They are another great structural feature that can look terrific in a bathroom or living room and add particular 'wow' factor in the entry.
And finally, flexibility is key when considering your family's needs a whole generation ahead, you'll earn peace of mind. Your home will be adaptable to changes whilst providing an excellent lifestyle right now and in to the future so you have the best of both worlds!
Eden Brae Homes has helped thousands of families by creating award-winning contemporary designs which keep up with changing times. Feel free to have a chat with our sales consultants on 1300 645 860.