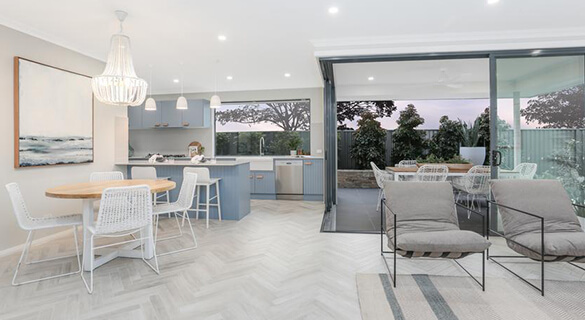 Posted on 15th September 2021
Design and Colour Trends for Spring 2021
When the wattle blooms and the dawn chorus of birds start to swell, you'll know spring has arrived. If restyling or refreshing your home is on your to-do list come spring, here are the 2021 spring design trends for colour, furniture and materials you can use to transform your brand-new home with Eden Brae Homes.
Colour – soft shades and rich natural tones
To know which colours are in, look no further than the companies which provide them. In 2021, Etsy selected sky blue as its colour of the year, and Pantone crowned Illuminating its winner, a warm yellow suggesting renewal and optimism, perfect for springtime weather.
What's more, with the trend toward natural materials like wood, warm organic neutrals like hickory, sepia and wheat are bringing the bush into the home.
If you prefer cooler colours, bleached whites and light greys glow in the afternoon light of spring and evoke coral, eucalyptus bark and wind-swept coastal cliffs.
Furniture – wicker, wood, and all things organic
Over the past few years there's been a shift towards organic and vintage furniture made from rattan, wicker and cane webbing. The trend continues this spring. These look excellent in an alfresco setting as they echo rustic, outdoor living.
Inside, soft natural materials are just as popular as last season as they add texture and depth. Examples include wool throws, velvet pillows, ceramic bowls and jute rugs.
To really bring your living space and the Australian environment together, it's always uplifting to bring in some of those blooming native plants like waratahs, sunflowers and snapdragons.
Patterns and materials – rustic vogue, and some help from James Treble
The spring trend towards natural colours and textures extends to floors, cabinets and walls, too. Interior Designer James Treble has reflected this in his interior design themes for Eden Brae Homes, such as the 'Coastal Driftwood' theme he's brought to the Midland 21 home. The Coastal Driftwood theme features a wide range of warm natural tones, textures and finishes.
Expect, too, this spring a shift towards nostalgic patterns like floral and check, which blend the old and the new into a rustic vogue style.
Check out the Eden Brae Homes website for lots of design advice including videos from James Treble interior designer.