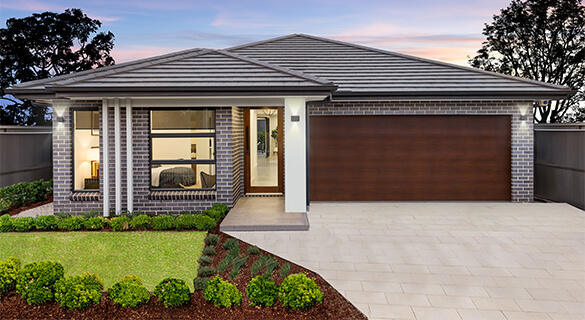 Land registering soon? Start preparing now
Take advantage of your waiting time and prepare for when your land registers.
If you have put a deposit on vacant land that is due to be registered soon, it won't be long until the property settles and you're paying interest.
If you're planning to build your dream home on the site, you're probably keen to move in as soon as possible, and avoid paying interest on a vacant block while also paying to live elsewhere.
"We often see clients starting the process far too late, thinking that they can't do anything until settlement," says Eden Brae sales manager Bill Hawie.
"There are a lot of background processes you can do to get the ball rolling, minimising time between when you settle and when you commence construction."
Bill recommends starting the process of planning your new home 6 to 12 months before your land is due to be registered. "Another benefit of this is securing your builder's current pricing," he says. "Costs can increase by anything from $10,000 to $15,000 per annum, so this is what you can potentially save by locking it in early."
Being clear on the design you want, understanding compliance requirements and having plans ready to lodge will assist in speeding up the process from a vacant block into a new home.
Here are Eden Brae's tips for a successful start to your home build journey:
Be familiar with development requirements.
It's important that your new home design complies with local development approval requirements or you may have to amend your DA, which costs time and money. As soon as your land registers, Eden Brae Homes will help you get everything in order. We know exactly what land developers and councils need for complying home builds. Eden Brae can even lodge your DA to council, or your complying development to a private certifier under the NSW Complying Development Code, so you can get into your new home sooner.
Get help with the design process.
It's best to get the floor plan for your new home right, from the beginning. Changes along the way cost money and can extend the completion date, so start doing your research well before construction begins. Eden Brae Homes' sales consultants will discuss your family's needs to find the floor plan that best matches your dreams with the minimum number of changes.
Book in your site start and lock down the price.
Sadly, many builders take on work knowing their customers will be hit with a substantial price increase later. Eden Brae does things differently. Our BuildSure guarantee includes up to 18 months price lockdown, where our customers can lock in today's pricing for and additional six months at no charge, giving you peace of mind that your price is secure. We have a limited number of new site starts each month that way, you'll know exactly when your home build will begin and what it will cost.
Being prepared can save you serious time and money. Eden Brae will endeavour to have your plans ready to lodge for approvals the moment your land is registered to get the approvals process moving as quickly as possible. The construction process begins shortly after approval is granted, and from there, it won't be long before you're enjoying your brand-new home.