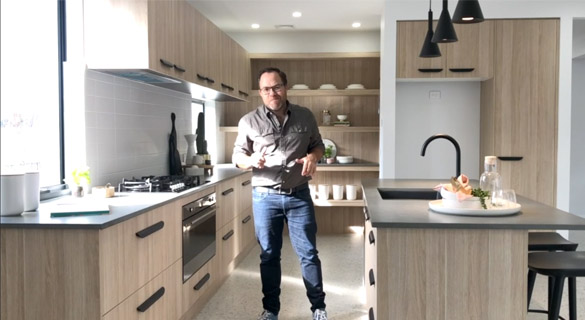 Video | Display Home Tour
Tour with James: Introducing the Forsyth 30
Video Transcript
Welcome to HomeWorld Elara, here at Marsden Park. I'm outside the Forsyth 30, a brand new two-storey four-bedroom new design for Eden Brae Homes. Now, this may just be the right home for you so, join me as we have a walk around.
I say it all the time, but the way you feel when you enter a home is so important, especially when it's your family home. The moment you enter this home you notice the amount of natural light. It's flooded through this lounge room, which is actually one of four separate living areas in this design. This home is perfect for a busy family, or a family that has children of different ages.
Next up is the powder room and a really generous laundry, and both of these are located at the base of the stairs; that means they're very convenient to access no matter what level of the house you're on.
One of the best features of the Forsyth 30 design is this massive open-plan area. This is perfect because it's a multi-functional space, so it's great for the whole family's activities and the perfect location for those large family gatherings.
We all know how important a great kitchen is but of course it has to be functional as well as good looking, and this kitchen has it in spades. There is plenty of bench space and also it has a very generous island, perfect for serving or entertaining. But what I really love about this design is the massive amount of storage options.
The features of the Forsyth 30 continue upstairs with a well considered floor-plan. There are two bedrooms at the rear of the home with the family bathroom located between them. And in the centre of this level is the large games' room, that's the fourth living area in this home's design. Now, it also has a separate toilet, so it's the perfect space for the kids to come up and take over with their friends.
And the other two bedrooms are at the front including a very generous master suite, with of course its own ensuite. What I really love here is the great amount of storage in the walk-in robe, and that window floods the space with natural light. And because the floor-plan is flexible you have the option to deck this area out to suit your own individual needs.
Of course, no family home would be complete without a great space to entertain outside and this home has a beautiful link between the large open-plan living area and a very generous alfresco.
I really love the Forsyth 30, it's got a great layout of the bedrooms upstairs, and of course this very generous open-plan living area. You can come to have a walk through yourself right here at HomeWorld Elara, in Marsden Park, or go to edenbraehomes.com.au for more details.