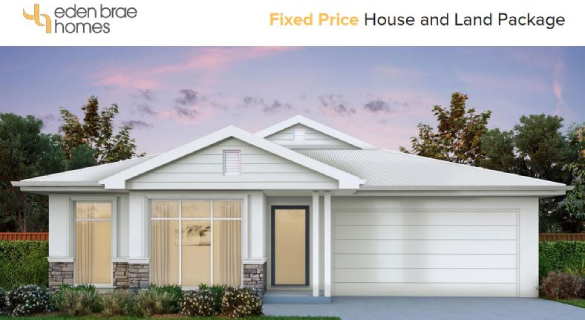 Posted on 27th September 2022
House & Land Packages Explained
The term House & Land package seems self-explanatory but understanding what is and isn't included can be tricky.
Essentially, the customer has two separate contracts; one with the land developer for their block and one with the builder to construct their home. Depending on the agreement, you can generally select your own block of land from the developer and then choose which builder you'd like to work with to create your new home.
If there's a shortage of land in a booming market, then going through a reputable builder is the best way of securing a House & Land package. Eden Brae Homes selects the best blocks and package them with the most suitable home designs for that particular estate. The good news for buyers is that the package is at a fixed price, so site costs and council and developer requirements have already been taken into consideration.
Buying a home is the largest outlay of funds we'll ever make, so surety of one's budget in making such a big financial decision is critical. To be contacted by a builder for more money mid-construction due to 'unforeseen circumstances' could mean that building your home suddenly becomes unaffordable. So, from that aspect alone, a House & Land package is a popular choice because it gives potential new homeowners financial peace of mind.
Just because you're buying a House & Land package doesn't mean that all the houses in the development will be 'cookie-cutter' images of each other or that a degree of choice won't be involved. There will still be a range of home designs for you to choose from and often a whole raft of customisable options and add-on extras that you can take up if you wish.
Remember that the more changes and upgrades you opt for, the higher the end cost of your new home will be. Take the time to read the House & Land package contract very carefully, so that you feel 100% confident of what's included and what's not. Although they're certainly covered in Eden Brae's house and land packages, landscaping, driveways and fencing are not always covered in a builder's package price. You'll need to check to see what's included in the price and set money aside in your budget for those items if need be.
A House & Land package is generally a much simpler process than organising the purchase of land and the construction of a house yourself because the home plan is already intended to suit the block. Add to that the time saving and a clear upfront price and you can easily see why, for many new homeowners, a house and land package is just the ticket.
For all enquiries about Eden Brae's House & Land packages available, call 1300 645 860 today and we will be more than happy to assist you.