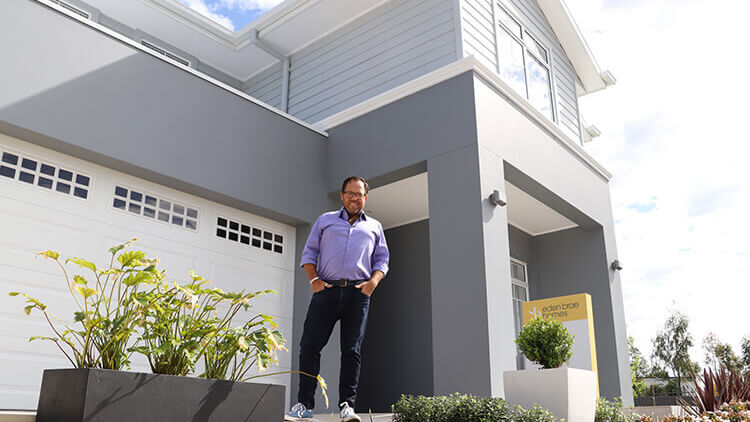 Posted on 9th January 2020
Tour with James: New England Facade
Choosing a façade for your brand-new home can be a challenging decision. For those of you who are looking for a Hamptons style or Coastal inspired home, join James Treble as he introduces you to the New England façade that is featured on the Forsyth 30 now on display at Willowdale Estate, Leppington.
Transcript
Welcome to the Forsyth 30, a brand new two-storey design for Eden Brae Homes. We selected this striking New England Façade for this home because it's got a fantastic mix of coastal elements that's perfect for a Hamptons inspired home.
Hamptons is a popular interior design style, beautiful, sophisticated homes that feel relaxed, calm and definitely coastal. The typical palette for this style is a mixture of neutral tones, often with a nautical feel; blues and greens. For this home we chose to have a darker grey on the bottom of the home as it grounds the house onto its site, and then a softer grey for the first floor. This also accentuates the horizontal lines of the cladding, which makes the house feel much wider.
Another important element of the Hamptons style is the white trim. It adds to the coastal vibe, adding a nice soft contrast. Crisp white windows and white gutter and fascia highlight the architectural details of the house.
Panelling in cabinetry is another strong feature of the Hamptons style, so this was the go-to when selecting the profile for the garage door. But to add another little bit of detail, I went for highlight windows; they not only let natural light into the garage but they add a nice feature to the façade.
Another feature of this façade is that parts of the home sits forward other parts sit back, which creates lots of interest when viewing the home from the front. It also perfectly frames the front entry: the portico has these grand columns on the bottom, and then your eye is drawn up with that gable end.
Of course, a Hamptons inspired home deserves a striking front door. The front door of this home is definitely a statement. It has deep routed panels which match perfectly with the garage door. The vertical glass panels allow lots of natural light inside, and as for the colour… a deep inky blue, because it definitely has a nautical vibe, and it works really well with the other colours of the front of this home.
The New England Façade is the perfect choice for those of you loving the Hamptons look or if you are after a coastal inspired home. To find out more details about this façade, and the other façade options available go online to edenbraehomes.com.au.