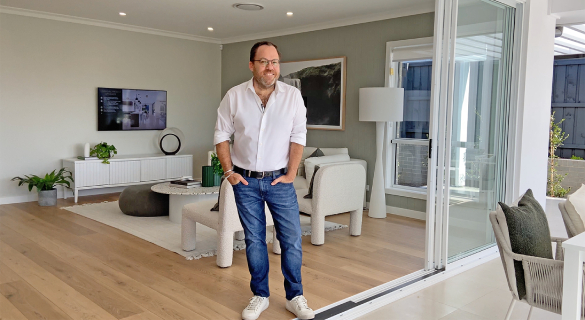 Posted on 11th October 2022
Design Tips With James Treble - Midland 23, HomeWorld Thornton
The Midland 23 - HomeWorld Thornton
Video Transcript
Welcome to the Midland 23, up here in the Hunter Region. This large four bedroom, single storey home is one of Eden Brae most popular designs and that has a lot to do with its functional and clever layout.
The generous master suite is located at the front of this home's design. Now, this is a great size room with plenty of space for a king size bed and bedsides. And because it has that clever little step-out at the front you can also create a little parents retreat there as well. There's a generous walk-in robe and ensuite, all of them creating the perfect master suite.
The three family bedrooms are located around a large bathroom and separate WC both being clever addition to this practical and well thought-out design.
This living room is one of two separate living areas within the Midland's layout. Now, as you can see, it is a great sized room, perfect to spend time together as a whole family or for the kids to spend time with their friends, watching videos, gaming, or its perfect for that movie night.
Now, there are two things that I look for in every home and that is natural light and airflow and the Midland 23 definitely ticks both of those boxes. The large amount of natural light plus the placement of the rooms, especially that centrally located living area allow plenty of natural light to flood into the home, and as far as breezes go not only do you get great cross ventilation from side to side but the generous hallway that runs right through the middle of the design allows the air to breeze through the front door and right through to the alfresco, perfect for those summer days.
We all love a beautiful and well-appointed kitchen but this one here combines a large amount of storage and plenty of bench-space. In fact this kitchen possibly has the largest amount of benchspace of any home design. But if you think this kitchen looks great wait 'til you see the pantry.
This walking pantry is such a great addition to this home. a large window allows additional light to flood in and as you can see here in this design we've included a great balance of closed storage, benchspace and open storage. And adding an extra sink elevates this from a walk-in pantry to a butler's pantry. As far as storage goes, whether you're a freak or a little messy like I am, you don't have to worry, because you can add plenty of open storage because its easily accessible but it's also out of view from the rest of the home.
Now, we all love to spend time in the great outdoors, and whether it's a quiet night for two or you've got all of your family and friends around a great connection between the inside and the outside especially with an alfresco like this is so important. As you can see the Midland 23 has these beautiful sliding glass doors that that open up, creating a massive open plan living area that beautifully connects