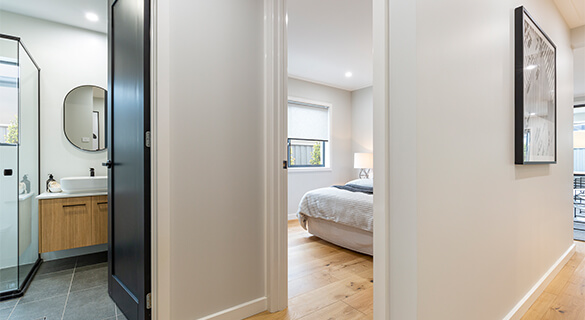 Future proof your home for years to come
The past few years have shown that our relationship with our homes is changing. They are increasingly both our workplaces and intergenerational living spaces. With higher costs of living and aged care, grandparents to young adults now often live under one roof, caring for each other socially, financially and in day-to-day activities.
At Eden Brae Homes, our floorplans anticipate and accommodate your family's changing needs. We'll help you design a home that provides maximum accessibility and flexibility, now and in the long term.
What design features can Eden Brae include for your long term needs?
Increasingly, Eden Brae is asked to add features that accommodate the elderly and the less mobile. Typical features include:
Wider ground floor door frames - A 100mm increase on the standard 820mm, a 920mm wide door frame can dramatically improve accessibility.
Step-free thresholds and showers - Ideal for the front door, alfresco door or shower, generous 1.2m deep x 1m wide thresholds ensure that prams or walkers won't roll off and lowers the chance of nasty trips or falls.
Bathroom sheeting- This makes the installation of grab rails in the toilet or shower simple if they are required in the future.
Recent research shows the biggest gripe with multi-generational living is a lack of privacy. This can be especially frustrating and unproductive for family members working or studying remotely. Fortunately, Eden Brae has thoughtful solutions that recognise the need for both solitude and gathering spaces. These include:
Guest Suite/Study -A guest suite with office capabilities is excellent for accommodating visitors and providing a space to work. An adjacent powder room also provides privacy for guests staying the night or a family member focused on work.
Two-way powder room- A powder room connected to the lounge and guest bathroom is flexible to the family's needs. It provides seclusion for guests and working family members whilst being accessible when the family comes together.
To view Eden Brae's Universal floor plan options click here:
Flexibility is key
When you secure your family's needs a whole generation ahead, you earn peace of mind. Your home will be adaptable to changes in your family whilst providing an excellent lifestyle right now. Eden Brae Homes has helped hundreds of families by creating award-winning contemporary designs which keep up with changing times. Feel free to have a chat with our friendly Sales Consultants on 1300-645-860.