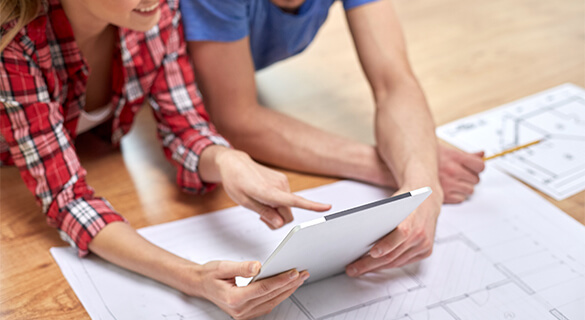 Posted on 29th April 2022
How to Select the Perfect Floor Plan
When designing your dream home, creating a floorplan with momentum and flow is the most important goal of the early design phase. That's because from the front door all the way out to your alfresco, it's the floor plan that will ultimately define how easily you move through your lovely new home. A well thought out floor plan positively affects your lifestyle and increases your home's functionality. Here are some key considerations to take into account.
What are the characteristics of your land?
The block of land on which your home sits will affect your layout. Its topography – the way the land lies – will impact where foundations should be laid and where water is drained away, influencing placement of wet areas such as bathrooms.
Your home's surroundings may affect your layout, too. For instance, carefully considering your layout can make the difference between your outdoor entertaining area overlooking a pleasant garden or vista instead of your neighbour's backyard. A little thought at layout planning stage can make a really big difference.
How will your orient your home?
The direction your home faces influences how much natural sunlight it will receive. North-facing rooms are always a good idea because they provide warming sunlight through the winters and give welcome respite from the summer heat.
Consider when you prefer sunlight in your bedroom. For example, do you like to wake up with the sun or would you prefer to have maximum light later in the day? It all depends on the floor plan you have selected for your home. For more great tips on how to maximise orientation, check out our article on the topic here. https://edenbraehomes.com.au/blog/why-the-orientation-of-your-home-is-so-important/
What are the council standards for my block?
Your council may well have restrictions on how your home can be laid out on your block. Restrictions can include the floor space ratio or how far your home must be set back from the property's boundaries. It's always an excellent idea to be prepared for any limitations or rules by finding out if any council guidelines exist and how they may affect your planning.
Does your floor plan fit your budget?
To make sure you get the 'most bang for your buck' when choosing your floor plan layout, sort features into must-haves, nice-to-haves and happy-to-live-withouts. If your budget allows, then add features to your kitchen and bathrooms as they can make a real difference to the value of your home. They'll have the biggest impact on you and your family's lifestyle, after all. And, if you're ever looking to sell, it will be those areas which will impress potential buyers and ensure your home retains its value.

There are quite a few considerations to make when choosing the perfect floor plan. That's why Eden Brae has created a super-helpful comprehensive floor plan guidehttps://edenbraehomes.com.au/about-us/publications/ to give you some top ideas. Of course, our expert Sales Consultants are also here to help you every step of the way. If you want to fall in love with your layout, then give us a ring at 1300 645 860.