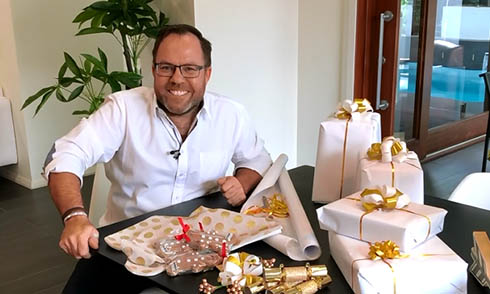 Posted on 7th December 2018
Design Tips with James: Christmas at Home
We love to entertain outdoors so alfresco areas are an important asset to your brand new home. James Treble Interior Designer provides you with some great tips to help you create and style your own alfresco area in your home.
Transcript:
Hi everyone!
Well, Christmas is just around the corner, I've already started doing some of my shopping and some of my wrapping and I'm already getting into the mood. But how do you bring that festive cheer into the home? Well I'm going to give you some of my top tips to help you ease into the festive season.
One of the most important features of Christmas in the home is of course the Christmas tree, but where do you store it? Well, under stair storage like this is the perfect solution, It's great for those big bulky things that you don't use all of the time. It's also easy to access so it's perfect for sporting gear like tennis racquets or golf clubs.
We also use the Christmas decorations once a year and because they're light they can easily store in the top shelves of the linen cupboard. But they don't have to be in ugly boxes, why not use beautiful decorative containers like these ones, storage can be good-looking.
So where is the best place to put my tree? The perfect position from my tree is right here centrally located. It's easily seen from the living dining and kitchen, so we can all enjoy it. It's also very visible from the alfresco and don't forget outdoor dining is a huge part of the festive season here in Australia, you can also see it from the front door - so it's the first thing that you and your family and friends will see when they enter the home.
A great tip when it comes to decorating your tree is to stay with one or two colours it makes it visually very strong and exciting and really punchy. This year I've chosen this beautiful golden yellow because it's the colours of Eden Brae.
As you can see already the one colour looks so strong against the green but, part of Christmas is also enjoying great food and having something to eat, so why not put some gingerbread men on the tree as well. Plus they're a great instant gift for unexpected guests.
As you can see I've repeated my gold theme even into the gifts, those gold and white ribbons and wrapping against this dark flaw in the green tree looked fantastic.
Now the Christmas tree looks perfect, but don't forget to spread that Christmas cheer right throughout the home. Think of the dining table where you're going to spend time enjoying food with family and friends. The coffee table, the side table and Christmas stockings for the treats on Christmas Day. And don't forget the bathroom, to keep that Christmas feeling going right throughout the home.
Keeping a consistent theme and colour in all of your decorating, creates a really strong impact and makes sure that your home is light and bright for the festive season.
Now remember of course the festive season is all about family and friends and decorating your home is the perfect time to get everyone involved.
On behalf of everyone at Eden Brae we wish you and your family a very Merry Christmas and a Happy New Year.