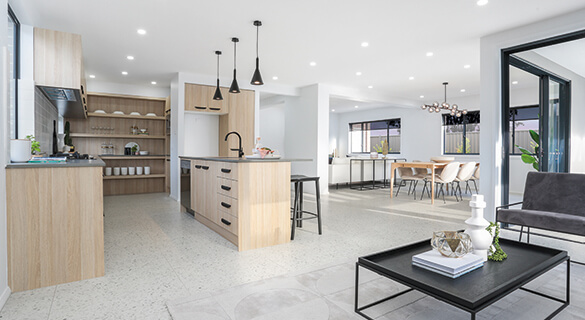 Posted on 13th October 2021
Bring the beautiful appeal of Palm Springs to the heart of your home
The 2021 design trend making a big impact is the Palm Springs vibe and it's easy to understand why. Palm Springs style has cemented itself as the perfect balance between contemporary living and a touch of glamour.
Leading kitchen designs specialists Kitchen Culture are seeing a real increase in the Palm Springs inspired look. "The clean lines and functionality coupled with fun splashes of colour and the hint of sophistication that characterise this style is really appealing to new home buyers" says Kitchen Culture. "The kitchen is the heart of the home so you really want it to be an enjoyable space to be in as well as one that works for your household. The beauty of a Palm Springs inspired style of kitchen is that it integrates very well into other living zones and this is ideal for open plan interiors."
Palm Springs style is a very distinct architectural look that originated in the desert resort city of California. It's fresh, inviting and has an "oasis" look and feel that is a welcomed relief from the hot and dry environment. No wonder it is right at home in Australian interiors as well.
Kitchen Culture says: "To achieve this look for your kitchen, look at simple clean lines and a functional design. Don't be afraid to use pops of colour, especially from the pastel palette. Think greens, soft greys and pale pinks. These colours are not only soothing but will stand the test of time as they offer a subtle presence and just the right amount of difference. Add some metallic highlights to up the glamour stakes like gold tapware or light fittings. If you are not quite brave enough to go a coloured bench top or cabinets, you cannot go wrong with a textured finish wood grain. This contrasts beautifully with a smooth surface benchtop and seamless cabinetry."
The added bonus of Palm Springs style is the element of nostalgia which after the year we have had provides a sense of comfort and familiarity. The 2021 version however is a more sophisticated twist on this much loved style that ideally compliments modern day living.
Eden Brae Homes in consultation with interior designer James Treble have created a beautiful Palm Springs themed home. Visit the Forsyth 30 on display at HomeWorld Marsden Park or check it out virtually.