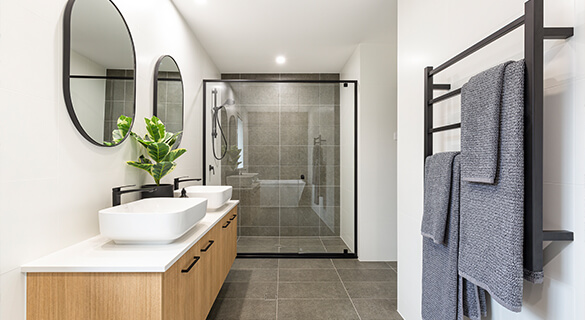 Create the perfect bathroom experience for winter
Create the perfect bathroom experience for winter
When you build your own home, you have the opportunity to add in all those little creature comforts and adding heated towel rails to your new bathrooms makes perfect sense. After all, there's nothing quite like reaching for a warm, fluffy towel after a shower, on a cold winter's day!
With the colder months upon us, it's time to think about cost effective ways to keep your home warm, including your bathrooms.
Something as simple as the addition of an electric, heated towel rail can transform your bathroom into both a luxurious and cosy space.
Heated towel rails were once considered an extravagance, but a standard Thermorail dry electric heated towel rail can cost as little as one cent an hour to run. If you shower in the morning and the evening then a heated towel rail is the most cost-effective way of ensuring the luxury of a warm, dry towel all the time.
A heated towel rail is also excellent for drying damp, delicate clothing and swimwear. You can even use them to warm up your clothes on a cold, winter's morning.
Thermorail towel rails aren't just a great, functional item for your bathroom, they're also beautifully designed. They come in all the latest finishes, like matt black, brushed stainless steel, satin white, brushed gold, polished rose gold and gun metal, so you'll be able to match your rail with your favourite tapware. They're also built for longevity, using 304 grade stainless steel, rather than a plated finish which can be prone to chipping. Backed with an all-inclusive warranty will also bring you peace of mind.
Heated towel rails are one of those items that you will always be so pleased you selected, every time you pick up your towel.
Your experienced Cook's Product Consultant can answer all your Thermorail heated towel enquiries. Make an appointment today and seek advice on what style and colour is most suitable for your bathroom space. Alternatively, head over to cooksplumbing.com.au and enter 'Thermorail' in the search bar.
Eden Brae's Home Options Gallery can provide you with more tips and advice and all the inspiration you need to complete your new home. Take a tour of our Home Options Gallery https://edenbraehomes.com.au/interior-design/showroom.