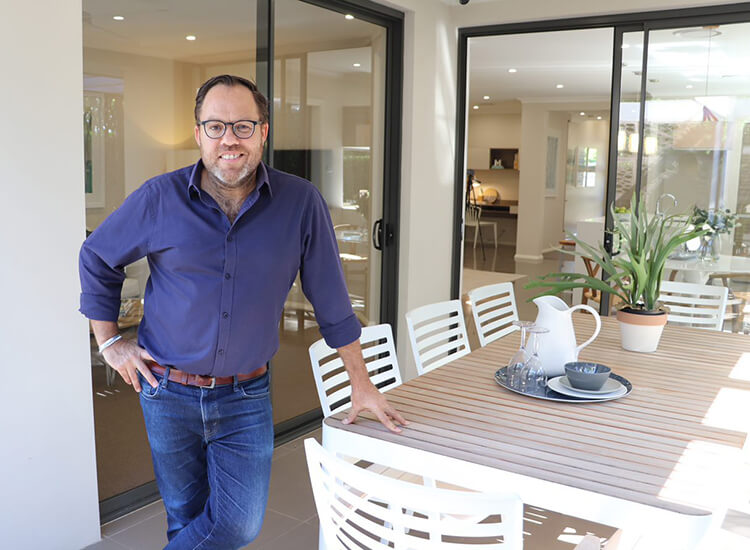 Video | Display Home Tour
Tour with James: the Sheffield 24 MK2
Elegant in every aspect of its design, the Sheffield is adaptable in so many ways. Its spacious, modern interior invites comfortable living for all the family. Open zones provide the ideal place to get together whilst private areas give peaceful, quiet zones. The clean lines of the Sheffield make it a superbly stylish home.
Transcript
If you're after a well-considered floorplan with three separate living areas plus a study, this might just be the home or you. This is the Sheffield 24 MK2, a large four-bedroom, single-storey home designed by Eden Brae Homes, and is on display right here at the Willowdale Estate in Leppington. Now, it's got a very practical floorplan, especially for large families, so join me now as we take a walk through to find out why it might just be the best home design choice for your new home.
It starts with the master bedroom, which is located at the front of the home. It's got a great size walk-in robe and ensuite and is large enough for some extra seating, so it creates a great master suite for mum and dad; a little bit of space on their own.
Making your way down the hallway we come to this large living room, centrally located it's actually one of three separate living areas in this home design. Now, having enough space in a home for all of the family to spend together as well as time apart is an important and practical consideration in this floorplan.
Next up is this large open-plan kitchen, family and dining room. It's a great size for a large family and perfect for when all of the extended family and friends come to visit.
A large splashback window like this one just floods natural light into this room making it feel even bigger that it already is. Great amount of bench space on either side of the cooktop is always important but this room is so big that it allows for this oversized kitchen island, great for entertaining and perfect for any buddying home chef.
A great bonus feature in the Sheffield design is the study nook. It's cleverly located in one corner of this open-plan living room; it creates the perfect location for the kids to do their homework where mum and dad assist whilst cooking up a storm. But as many families require these days it's also the perfect space for that home office, a great addition in any modern home.
A second hallway creates a separate quiet zone in this home, perfect for the three family bedrooms, which have their built-in robe. The family bathroom has two basins, which is a great design consideration for any size family, large or small. The laundry, located a t the end of this hallway, provides easy access to the backyard for air-drying, and the large double door linen cabinet in front of the laundry adds to the practicality of this home's design. Now, the ability to personalise this home and add a door here, lets you close off and separate the three family bedrooms from any noise that's happening in the rest of the home.
The third living area in this large home is this rumpus room. Located at the rear of the home is a great space for the kids to run amuck or for the whole family to relax and spend time together. Another great feature of the Sheffield home's design is that there is a large sliding glass door from the rumpus and from the open-plan living area both leading out to that alfresco. It's of course great for when it comes time to entertain, but even more important for those relaxing family days at home.
The Sheffield 24 MK2 is part of the Accent Series, meaning it's been created with affordability in mind. The Sheffield 24 MK2 has a really practical floorplan that's just nice to spend time in and it think that has a lot to do with how the rooms flow beautifully from one to the next. You can come and take a walk through this home yourself right here at the Willowdale Estate at Leppington or jump online and do the virtual tour as well as find out any further information at edenbraehomes.com.au.