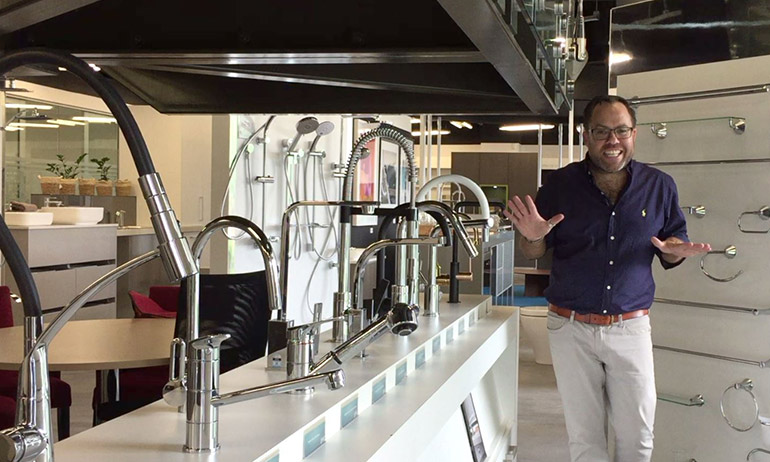 Posted on 5th December 2017
Tips with James Treble: Selecting the right tapware for your brand new home
There are so many things to consider when building your new home. James Treble offers some great tips in relation to selecting the right tapware. The Home Option Gallery located in Bella Vista & Thornton are open to the general public. For more info visit www.homeoptiongallery.com.au
Transcript
We use them every day and selecting the right ones for your kitchen and bathroom can make them look amazing. Of course, I'm talking about tapware. I've come to Home Option Gallery to check out the exciting tapware on offer.
Your Cook's Plumbing appointment is your chance to deal with a specialist as you work through each room in the home looking at what's standard for your design and then checking out all of the upgrade options.
The tapware to our Basin would be the ones that we use the most and getting the right one for your house and your needs is very important. A traditional set like this has a hot and cold tap on either side and a spout in the centre. For me, it's always a basin mixer. With a simple flick of the wrist, you can change it from hot to cold or change the water pressure. And remember the basin mixer should relate to the basin itself because one mixer might look fantastic with one bowl and look entirely different with another.
Depending upon your vanity design you might choose to have a separate basin with wall-mounted tapware. This means that the spout and mixer are on a separate back plate, wall-mounted, giving you a very modern look. This looks great for your basin but it's also a very practical option for your bath as well.
A free-standing bath is definitely high on the checklist for a brand new home so why not upgrade the ante and put a beautiful floor mounted bath filler as well. There's nothing better than having a relaxing shower. You'll be shown a range of wall-mounted shower roses to suit your bathroom. One upgrade I definitely recommend is selecting a shower on a rail. It gives you the option to change the height of the shower which is great for girls who don't want to wet their hair every day. It also means that you've got functions to change the direction of the spray. But one of my favourite reasons is that the shower on the rail gives you the ability to easily clean the shower, as well as yourself.
The team at Home Option Gallery are constantly upgrading their displays and ranges and tapware is no different. There are exciting new additions in the metallic finishes in both matte and gloss and they come with matching accessories. And of course my personal favourite - matte black!
Of course, the kitchen is the heart of every home and upgrading your kitchen tap can turn an amazing kitchen into something truly wonderful. Why not also add the clever feature of a pull-out spray. it allows you to easily clean the vegetables plus fill up the mop and bucket without lifting it up into the kitchen sink.
As you can see there are so many exciting ranges on show allowing you to personalise the look and feel of your brand-new home, but remember, do your research. Visit the display home and bring along some inspirational images. That way you'll be ready and prepared to make the most of your tapware appointment and get the home to look the way that you want it to.