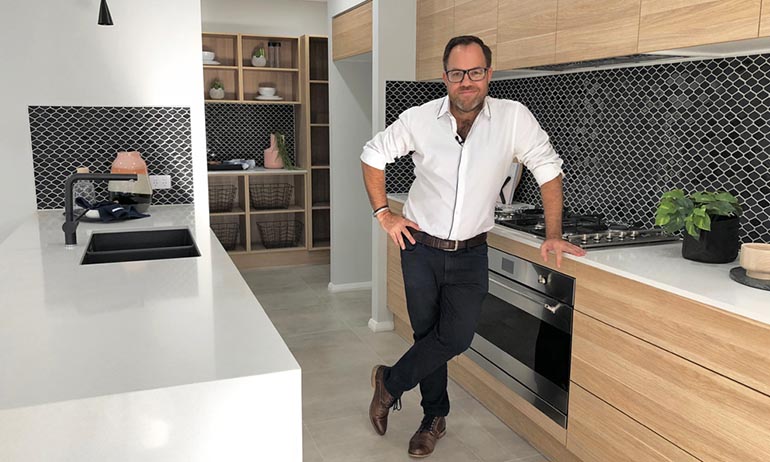 Posted on 7th August 2018
Design Tips with James: the Livingstone 22Mk3 - City Chic
Transcript
I'm here inside the Livingstone 22, a brand new single storey display at HomeWorld Leppington. The Livingstone design has proven to be quite successful for Eden Brae Homes, and because of that, there are a few variations on the floor plan available for you to choose to personalise the home for your needs. This one is the Livingstone 22 MK3.
When you first walk into this home you'll find the master bedroom with its own walk-in wardrobe and ensuite. Now, my theme for this particular display home is 'City Chic', and to achieve this I wanted to play with strong contrast, so you'll notice that I've opted for beautiful rich dark carpet in the bedrooms and these fantastic dark doors with matching dark hardware.
Next up is the home-theatre, and the great thing about this room is that it opens up which is fantastic when it comes to furniture placement. You could use this room as a designated home-theatre or as a second living room.
Continuing through the home you'll find the other three bedrooms, located next to the family bathroom and separate toilet. Now, working with this 'City Chic' theme I opted for high contrast again in the bathroom and a little bit of pattern with these fantastic hexagon tiles, which run from the floor right up to the wall, adding a beautiful feature to the room. This bathroom is actually in the centre of the home, yet it's flooded with natural light because we've added a skylight above: a great option for you to consider for your home.
The living, kitchen and dining room sit to the rear of the home, looking out to the backyard. There's also a fantastic walk-in pantry, adding lots of storage options to this house. An important element of every kitchen is practicality, and this kitchen has great bench space and storage options. Continuing with my theme I wanted the kitchen to have an edgy look, so I've opted for a black tap and sink combination, as well as black overhead lights. For the splashback I also went with black; it contrasts beautifully against the timber cabinetry, and it's a great place to add lots of pattern.
The study is centrally located next to the kitchen and is perfect for your home office.
The edgy, high-contrast selection of finishes continues into the laundry, and why not: a laundry this good doesn't have to be hidden away.
We all love entertaining, and why stay inside when you have a great alfresco like this one? Working with the 'City Chic' theme I've opted for beautiful concrete-look tiles, and running the same tile inside and out allows one room to flow into the next, playing with space and making it feel large and inviting.
The Livingstone 22 MK3 is a very edgy and contemporary looking home and I encourage you to come and have a look at it first hand right here at HomeWorld Leppington… or you can do a virtual tour.