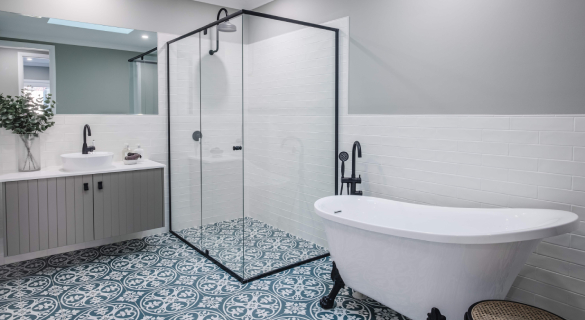 How to choose the right shower screen
Seven great tips to get it right!
The shower screen plays a vital functional role in any bathroom but just as important is the aesthetic balance it provides to the rest of the bathroom. The following key elements will help you understand how and why this significant feature can really be the difference between a good bathroom and a great bathroom.
STYLE: Frameless shower screens are comprised of unobstructed thick glass secured by subtle metal clamps or a slimline aluminium frame for low visual impact. They are increasingly popular with interior designers as they enable the eye to focus on the spaces' aesthetics and material choices. Alternatively semi-framed screens allow for a more defined, structured look. This option offers the best of both worlds – minimally intrusive screens and a wider glass area for a more spacious feeling with reinforced structural support.


SHAPE: The traditional sharp angles continue to provide a clean and clinical look in shower screens but thanks to new design innovations, curved and rounded shaped screens are also an option. Ideal if you are after a much softer and fluid feel to your bathroom.


SPACE: Space is often at a premium in bathrooms. While hinge and pivot show door styles require empty space to accommodate their trajectory, sliding and stacking doors move parallel and give more room to move.


SUPPLEMENTARY STYLING: Hardware and tap ware is very important for completing the look. Black is definitely the popular choice right now and provides an edgy dramatic feel to the space. On the other end of the spectrum, chrome or nickle-plated hardware is ideal for a lighter more subtle look that suits a range of décor themes that has enduring style appeal.


SEAL: To best minimise leakage, choose a shower screen with an overlapping door and a seal on the opening edge of the door. The overlap will create a barrier that prevents water from spilling out. The seal helps reduce water leakage between the door and the closing panel or jamb. These semi-frameless structures offer well-constructed framing systems for stability, strength, easy access and elegant style. This pivot design is available up to 2500 wide openings and is ideally suited to larger more opulent designs.


SAVINGS: Semi frameless shower screens are becoming extremely popular as they give a clean streamlined look without the expense that is associated with a fully frameless option.


STRESS FREE MAINTENANCE AND DURABILITY: Consider purchasing a shower screen that assists with reducing your overall cleaning time and increases your durability. Avoiding the use of harsh chemicals will help as the coating prevents glass corrosion, lime deposit build-up and is abrasion resistant so it won't wear down or rub off. Screens that are chemical resistant, repelling both oil-based and water-based substances is preferable.



It's also important to consider the longevity of your shower screens so make sure the one you select a warranty to offer peace of mind that a dream look wont' become a nightmare to maintain.


While shower screens may not be the first consideration in bathroom design, they can completely influence the look of the space. Shower screens successfully blend style with functionality which is essential if your bathroom is to stand the test of time.


For more inspiration on how to complete your new home, visit our website https://edenbraehomes.com.au/interior-design/image-gallery/