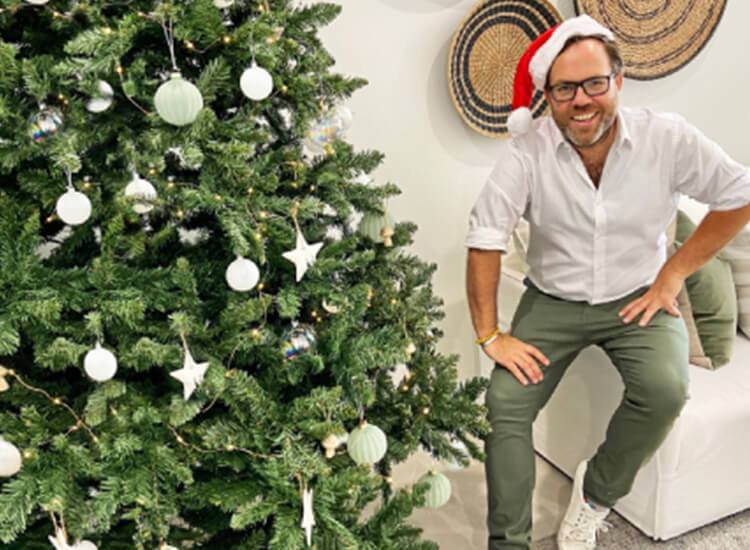 Posted on 30th November 2022
Christmas Design Tips with James Treble
Christmas Design Tips - Toorak 31, HomeWorld Thornton
Video transcript
Can you believe it's that time of year again? Soon the house will be filled to the brim with family and friends ready to celebrate the festive season, and who doesn't love to deck the halls of their home with Christmas cheer?
But of course it can look stylish at the same time. Now when it comes to decorating your home some people choose to go completely over the top and that's fine, because I want you to have a lot of fun, but for me I choose not to make my home look like Santa's grotto. I think that I can still have a very festive elegant looking space and it can work with the integrity, the look and feel of my home. So here are a few of my tips.
Go with a simplistic colour scheme. Usually one or two colours works really well as it allows you to have a nice flow from one room to the next. This year I've gone for a mixture of crisp white nordic green fused with eucalypt green, to give it that Australian take, and a little hint of gold. When you're looking for your own colour scheme don't be afraid to look through the rest of your home's fittings and fixtures to help point you in the right colour direction.
Sometimes less is more, so when it comes to decorating your home think of having two focal points. For me this year it's the dining table and the Christmas tree, and then you can decorate the rest of the home in a lighter softer way using fresh flowers, fairy lights and of course candles.
Now, when it comes to styling the dining table I want you to first look at the shape of your table. Here we've got a round table, so of course that was the perfect jumping off point for having round placemats. And when it came to selecting the centrepiece, well, I went round again. Here I've used this beautiful round ring of eucalyptus leaves, putting candles in the middle, and to introduce the gold we've got gold cutlery… and we've repeated that with the napkin rings.
The final tip is to not over decorate your tree. Just stay with a few simple shapes and decorations and repeat them over and over again… and for the colours refer back to the same colours that you're using throughout the whole home. Now, when it comes to lighting up your Christmas tree why not go with fairy lights? They are so visually effective but also very cost effective, so you can go crazy with these throughout your whole home. A great tip is to remember to buy the same brand because you want the light colour to be the same cool light or warm light… I think warm light works really well in this case, and then you and the whole family can have a lot of fun and go crazy lighting up that tree.
So, there you have it: simple and stylish… just like me. On behalf of everyone at Eden Brae homes we wish you and your family a very merry Christmas and a safe and prosperous festive season.