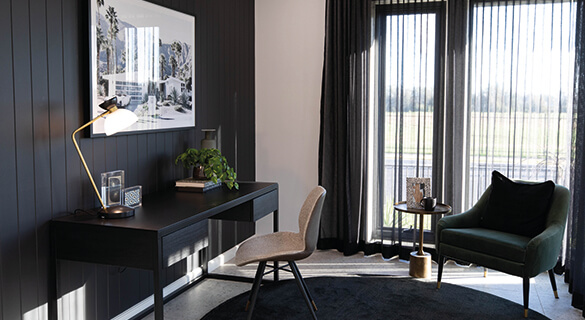 Posted on 25th January 2022
Working from home? How to create a productive environment
As we all know, the past two years have seen countless people unexpectedly working from home. And it looks as if many of us will be working from home (also known as 'WFH') for a while longer, or for at least some of our working week as hybrid models emerge.
Working from home has brought with it some significant changes. Business attire has gone from dress pants to tracky-dacks, and the commute to the office is "two lefts past the kitchen". But as our homes increasingly double up as our workspaces, it's important to separate our home space from our workspace as far as is possible. Here are some design tips to help you convert your existing home into a productive home office whilst achieving work-life balance.
Consider converting a room
Your best bet for separating work and home life into distinct spaces is turning a spare bedroom, upstairs rumpus, large landing or study nook into an office space.
Spare bedrooms are often the most practical, as they can be multipurpose. A compact pull-out couch and ensuite allow you to quickly convert your office back to a bedroom for visiting guests.
Making your space functional and productive
The better designed your home office, the more productive you'll be, and the more time you'll get to spend outside of it!
If you're pressed for space, floating shelves, cord organisers and labelled cabinets organise your area to ensure a seamless workflow. You can also personalise your space cost effectively with a pin board, stationery items, a plant and photographs, for example. What's more, consider your flooring; materials like old carpets may be distracting if you're sensitive to allergens.
But our top tip for making your workspace comfortable is an ergonomic office chair. Unlike a stool or seat borrowed from the kitchen table, an ergonomic chair protects your posture.
A welcoming workplace (without leaving home!)
Creating a home office is a balancing act. We want to be productive and efficient whilst feeling calm. We want to be relaxed, but we don't want to doze off. We want our home office to be a place we enjoy coming to but that is as separate from the rest of our home as possible.
One tip is to avoid choosing a room near loud roads or shared spaces like the lounge room. If this isn't possible, noise-cancelling foam panels are a cheap, easy-install alternative. Likewise, noise cancelling headphones are great for blocking out unwanted noise and when making video and telephone calls.
In terms of lighting, a large north-facing window offers plenty of sun, keeping you alert and ready to work without needing fluorescent lights. (For more info on why north-facing blocks are ideal in Australian climates, check out our previous post.) If light is an issue, consider purchasing a desk or reading lamp.
Eden Brae's homes are designed for optimal living. Home offices are incorporated into many of our designs, such as the Glenburn.
If you're thinking of building a new home but need it to suit your busy working life, feel free to give Eden Brae Homes a ring at 1300 645 860.