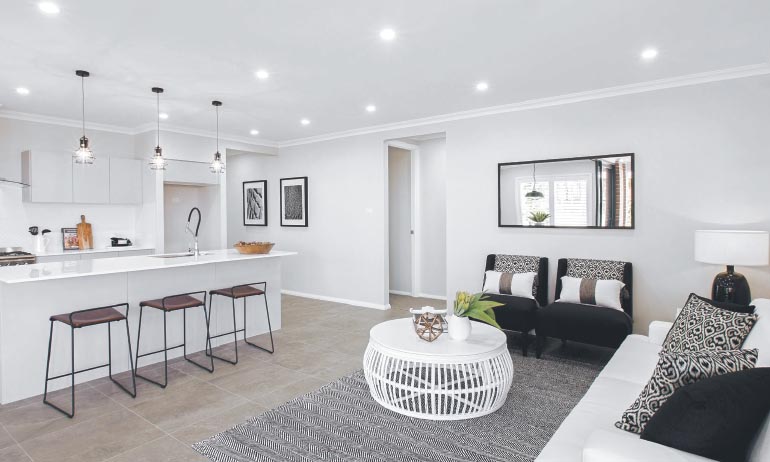 Posted on 7th August 2018
Choosing the Right Home For You
When you commit to a big investment such as building your own home, it makes sense to think not only about your immediate housing needs, but how those needs may differ as the years go by.
One aspect of a really well-designed floor plan is that it should be flexible enough to adapt as your family evolves or as your circumstances change. Eden Brae Homes has a huge range of designs that cater for just about any scenario and whether the alterations you need to make are structural or simply the re-purposing of an existing area, a well thought-out original design will make any transition much easier.

Take children, for example. Your needs – and theirs – will alter quite dramatically as they grow. When they're younger, a play area or alfresco zone off the kitchen makes good sense. An unimpeded line of sight means easier supervision, and helps keep children safely out of the way during food preparation. As children become older, that same play area could easily be converted into a computer nook, ideal for supervised homework or ongoing study. Later still, it could transition into a home office.

A strategically-placed family room has the ability to serve multiple needs. It's a great rumpus area for energetic children, and the addition of some simple shelving can provide a toy library, keeping clutter in other areas of the home to a minimum. The space could even double as the games zone or theatre room, brilliant for Friday movie and pizza nights.

When considering your home's layout, think particularly carefully about the location of adult bedrooms. More and more of Eden Brae's customers are choosing designs which place the master suite at the front of the property. With living spaces typically adjoining the back yard, a master suite at the front of the home is a terrific way of gaining additional privacy. This area can also include a substantial parents' retreat or private veranda to make it a quiet, relaxing haven.

Depending on what stage your own family is at, planning for a guest area complete with bedroom and ensuite can also be a smart move. It's a great way to accommodate unexpected guests, or could give teenagers their own space to entertain friends.

Those thinking even further ahead may one day wish to invite grandparents to share the family home. If so, think about choosing a design that easily lends itself to the conversion of downstairs rooms into an additional living zone. Don't forget to consider security, mobility needs and where potential access points will be, too.

It's impossible to cater for every eventuality, but putting a little extra thought in at the beginning of the design process will pay off over the years. Incorporating even a small amount of future flexibility into your floor plan can make a really big difference to how well your home will serve you and your family over time. It will also save you the time and expense of moving house as your needs change, and will enable you to enjoy the stability of remaining in the same community.