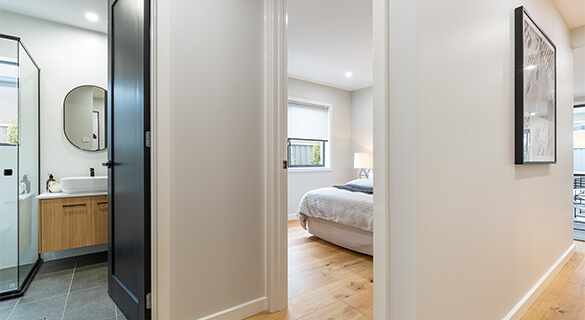 Posted on 29th April 2022
Four Great Reasons for Adding a Guest Suite to Your Home
Imagine you're looking to add some extra functionality to your new home. In that case, a guest suite could be just the answer you're looking for. Not only will it provide increased flexibility for your family arrangements, it can also act as a space for remote work or an extra room for storage. And it will most certainly give an added boost to your home's value.
1. A dream home designed for generations to come
As the saying goes, 'Life is what happens when you're busy making other plans.' A multi-purpose guest suite built now may really be a lifesaver in years to come. Think about it as a form of smart future-proofing. With that lovely extra space, you'll be well placed to offer a home to an older parent, welcome a newborn baby or invite visiting friends to use your home as a base when they're out and about on their travels. There's no end of choice!
2. Transformable home office space
In this era of remote working, a cleverly stored pull-out couch and storage space quickly turns your guest suite into a practical, multi-functional home office. It's an adaptable and wonderfully separate room in which to buckle down and focus; away from the hubbub of the living room or dining table.
For more inspiration on building a home office, why not check out our article here.
3. Smart storage space
With some clever under-bed storage and a couple of roomy closets, a guest suite can also be a valuable storage space for infrequently used items like winter sheets and camping gear. (Although with the help of our smart storage tips, you should have plenty of space already!) Having items securely stored inside your home rather than in your garage or garden shed helps keep them in top condition, too.
4. A guest suite increases your home's value
The more functional your home, the more valuable and appealing it is to future buyers. It's that simple. One person's guest suite is another's home gym, rumpus room, or perhaps the space they need to write that blockbuster novel. And, if you're ever looking to move elsewhere, such handy extra space will go a long way to putting your home ahead of many other properties for sale in your area.
All in all, a guest suite is never just a guest suite. It's a storage space, home office, and flexible family space all rolled into one. If you'd like to build a house to go along with your guest suite, then give Eden Brae Homes a ring on 1300 645 860.