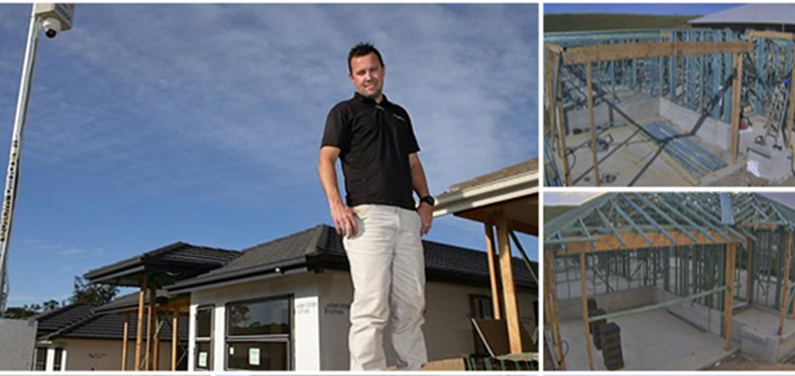 Posted on 21st October 2015
Security cameras give home owners extra glimpse of new build
SECURITY and safety at residential home sites has soared to a new level with a pioneering program by Eden Brae Homes.
Source: Daily Telegraph - News Local
Date: Thursday, 11 June 2015
The BuildWatch initiative, which sees security cameras installed on site for viewing by both Eden Brae Homes and homeowners, is supported by NSW Police and has already led to a criminal conviction. Safety manager of Eden Brae Homes, Nathan Owens, said BuildWatch was "a great deterrent". "It has helped a lot with theft and vandalism," Mr Owens said.
He said while the concept had upped security, it was designed for homeowners.
"We trialled it out at a few locations and the main focus the directors wanted was to have a point of difference for the customer experience and to create the next level of trust and transparency for customers," he said.
In its trial period, only a handful of sites had cameras but now 50 per cent do.
David Elliott, Eden Brae Homes construction supervisor, said all parties reaped the benefits of BuildWatch.
"With theft it is a preventive measure; people see the camera straight away and they will keep driving, that is the biggest thing for me," Mr Elliott said, adding that people stole mostly copper, electrical and brick work.
For the supervisor, the program had enhanced construction efficiency, as he could monitor all deliveries, work progress and check for any wet weather issues.
"I get updates about three or four times a day," he said. "If I am on another job I will quickly have a look at other sites, and also, if I am leaving for the day, I can ­ensure the site is locked up."
Clients have loved getting timely, high-quality vision of their evolving property, Mr ­Elliott said. "They can see what is happening on site and once the camera comes inside, again they can see the progress."
The Housing Industry ­Association has strongly backed the program, said deputy executive director Sulfianda Soeleiman.
"Last year, new homes in Kellyville, Riverstone and Windsor were the top targets and according to (figures by) NSW Police, millions of dollars were lost in the same building sites through theft and vandalism," he said.
"What Eden Brae Homes is doing we commend them for – they are one of NSW's largest project home builders based on the volume of construction – they have tackled that ­head-on with this BuildWatch program."
HOW IT WORKS
Security cameras are installed on-site in the early stages of construction
Eden Brae Homes gets rolling day and night video of each property
Homeowners receive online access to the high resolution time lapse pictures taken at regular intervals
They can even request a snapshot to be taken at a chosen time with a "capture now" button
Until bricks go up at the house there is vision of the exterior of the property
Once the house hits lock-up stage, cameras are installed in the interior of the home
Eden Brae Homes is aiming to have the BuildWatch feature at all of its new home sites in Sydney