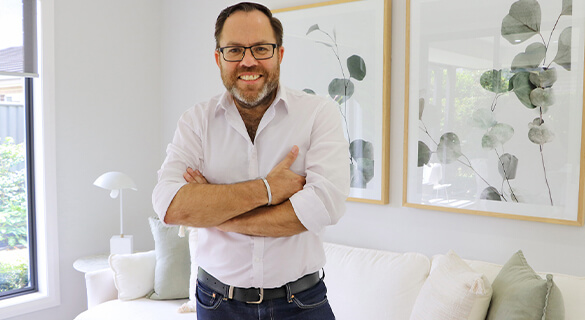 Design Tips with James Treble: Modern Australian
MODERN AUSTRALIAN – Video Transcript
The Ellenbrook 24 – Marsden Park
Welcome to the Ellenbrook 24. This house design is only 8.45 meters wide, yet it appears much wider, thanks to the practical floorplan and the clever choice of contemporary interiors. Our theme for this home is 'Modern Australian'.
The visual success of this home's façade lies in the strong use of layers, with walls interestingly coming forward and back. This is further enhanced by the selection of materials and finishes, all carefully selected to create contrast whilst providing appeal to a wide range of tastes.
The front rendered parapet walls and columns framing the portico and garage, are painted to match the strength of roof, gutters and fascia. This repetition of colour creates balance as well as contrast against the elegant finish earthy grey which provides a perfect back drop for all the other finishes. The smooth cladding also contrasts beautifully against the textured bricks and echoes the dark tones of the roof. This is a façade which sits proudly in the street, offering a modern look that will last for many years to come.
The great amount of natural light which flows down through the staircase void, is further enhanced by the choice of an open tread design, which I specifically selected to allow light to easily flow through this area.
In tune with the Modern Australian theme of this home, I chose neutral colours for both flooring and walls, aiming to achieve a calm feel and a welcoming flow throughout. The honed finish and soft slightly greeny greys with white flecks of the floor are reminiscent of weathered Australian stone and are repeated into the wet areas where they are teamed with geometric feature wall tiles, in a combination of colours that is inspired by the bark of native gum trees.
The sitting room and bedrooms located on the upper level, continue the choice of neutral finishes and palette chosen for the ground floor, reinforcing the calm feeling inspired by the Modern Australian approach. As you can see, the contemporary furnishing and light-coloured styling of this home works very well here, but a neutral palette like this one is very flexible and would lend itself very well also to a more contrasting styling, if this was your taste.
The Modern Australian theme also inspired the choice of muted grey and smooth texture of the cabinetry of the kitchen and wet areas. The tactile benchtops in a honed finish appear naturally weathered over time by the Australian climate, yet soft to touch.
The comfortable Australian outdoors inspired the choice of finishes of the Ellenbrook 24, a stylish, and comfortable looking home, perfect for a family with contemporary taste. I encourage you to see this home in person at HomeWorld Marsden Park or take the 3-D tour online, at edenbraehomes.com.au.