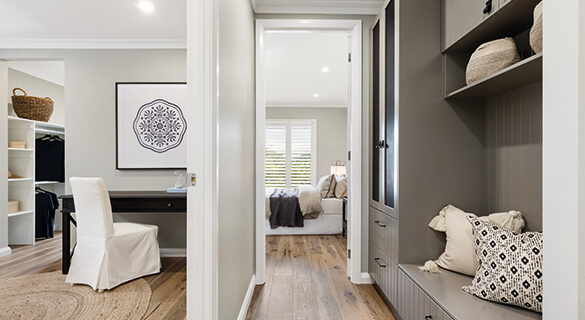 Posted on 8th December 2021
Why a mudroom is a great idea
Storage is the mantra for a neat and tidy home. A mudroom expands your current storage area and allows for easy and accessible storage meaning you don't have to open wardrobes and drawers in various rooms to find things.
The mudroom is ideal for storing things you use regularly but don't want stored in living areas or bedrooms. Think work boots, umbrellas, sport apparel, hats, beach towels…
Although the concept originated in the United States, a mudroom is very appropriate to the Australian way of life. We are a country that loves the outdoors and whether it is coming home from playing sport, coming in from the family pool or beach, needing somewhere to keep gym equipment, hiking gear or rain jackets, the mudroom is the perfect solution.
It frees up the laundry to be a room to wash, iron and dry clothes and it means your other living spaces are freed up to always look presentable rather than be dumping grounds for everything you really DON'T want on show.
Of course, every household's mudroom will be different depending on lifestyle and what you want to keep in this space. You can have everything from cabinets and cupboards to hooks, racks, shelves and other open storage options.
Perhaps you will have a storage section for each family member, maybe add a white board or corkboard and a bench for removing shoes. Think about small pegs and hooks for hats, scarves, hanging keys, even dog leashes.
The mudroom will also help you with overall organisation. It allows everything to have its place and alleviates the build–up of clutter.
There is no denying that the mudroom is primarily functional but fitting it out with similar colours to your kitchen and laundry will mean there is style continuity throughout your new home.
Kitchen Culture cannot only design you a beautiful kitchen but also a fabulous mudroom. They will help ensure your mudroom meets all your practical needs and still has great style appeal.
Open plan living areas means there is extra pressure to keep your home looking good. The mudroom can be THAT room where all the items you need are kept but are not out for all to see: Out of sight but not out of mind!
A mudroom benefits your whole house.
For more inspiration visit our interior themes page and our Blog where you will find a variety of articles providing tips and advice on your dream home build.