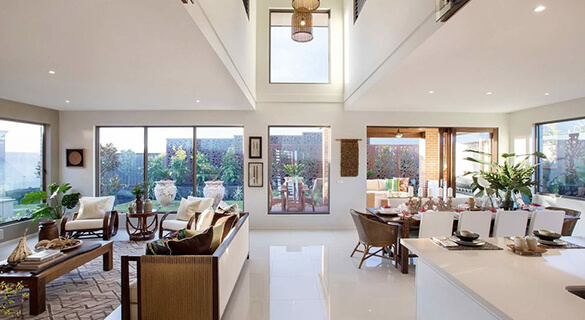 Posted on 15th September 2021
Why the orientation of your home is so important
Whilst it's not usually top of mind when thinking about building a new home, orientating your home into the most desirable position for its location has major benefits. It can make all the difference between a home that's cool and comfortable all year round and one that leaves you constantly pushing aircon buttons.
What is orientation?
Your home's orientation is its position on the block in relation to the sun's path, which changes with the seasons. Typical wind patterns are also a factor.
Placing your home in the best possible orientation means that you'll have natural temperature control, warming your home in the winter, and cooling it in the summer. As a result, you'll be more comfortable year-round and save plenty on heating and aircon.
What's more, expect a reduction in your power bills as your home is more energy efficient and emits less greenhouse gas. It's good for your wallet and the environment assisting with your Basix energy efficiency rating.
What direction should my home face?
North facing blocks are ideal in Australian climates. You'll have sunshine and radiating heat bathing your home in the winter and protection from the high sun in the summer months. It doesn't need to be precise; orientations up to 30° east and 20° west still give great sun control.
However, north facing blocks are not always available, so care must be taken when thinking about the layout of your rooms and the level of sun they'll receive.
For example, let's assume your home is east facing and your bedroom is at the front. You'll receive strong sun in the morning – very welcoming in winter but you may not think so in summer, particularly when daylight savings rolls around. To resolve this you could consider adding a block-out blind to your window.
Out the back of your house, you would get plenty of afternoon sun in the backyard and alfresco area. The heat could be ideal in winter but feel stronger in spring and summer when you're probably doing most of your outdoor entertaining. You may then wish to add a large fan to your alfresco for airflow and comfort.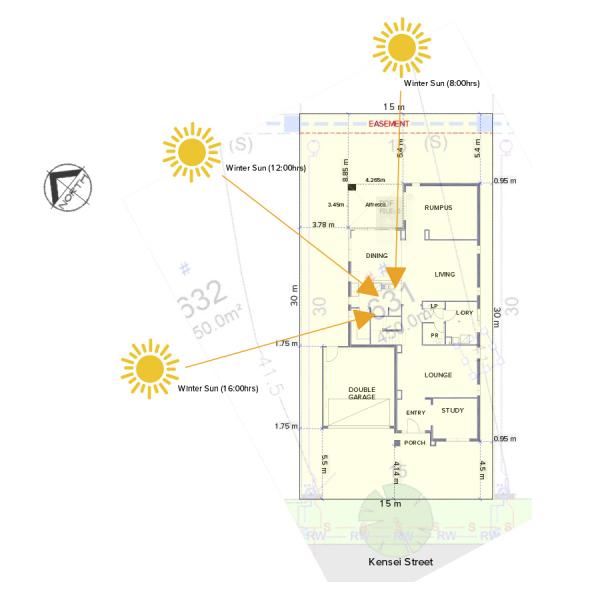 What else should I consider?
As well as wanting to catch the right amount of sun and attract cooling breezes, there are other aspects of orientation to give some thought to.
One, for example, is your neighbours. Consider how the proximity of your homes might affect privacy. There's also shade from neighbours' houses to think about, plus the shade your home may throw onto theirs. What's more, your neighbours' homes also affect your light and heat levels. Any double-storey houses close to you will decrease the sunlight flowing across your home.
When it comes to orientation, it's about striking a balance between climate and your lifestyle. Eden Brae will be able to assist you with the best orientation of your selected home for your block of land. Contact one of our friendly Sales Consultants on 1800 645 860 for more information.