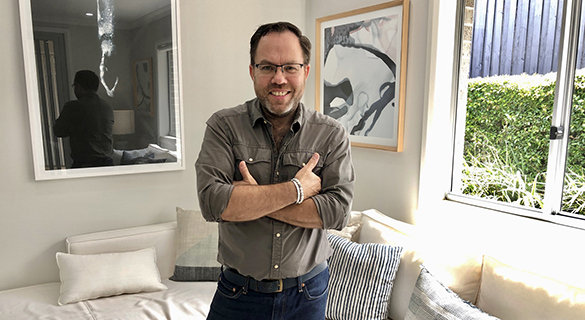 Posted on 27th October 2022
Design Tips with James Treble - Cool Coastal
Cool Coastal Interior Theme – Video Transcript
The Kew 27 – Leppington (This home is no longer on display)

I'm here inside the Kew 27 a very popular single storey four-bedroom home-design by Eden Brae Homes.

To create a home that appeals to a wide range of families taste, I think there's just something so appealing about a Coastal inspired theme! So whilst I always look to create interiors that feel modern and at the same time welcoming and relaxing to walk through, the theme for this home become Cool Coastal. I started creating my colour palette by being inspired by the muted tones of washed pebbles and seashells found along our beautiful beaches. Being inspired by nature is something I often do and it might be a great process for you in creating your own personalise colour scheme.

As you enter the home, you're greeted by the strong linear pattern in the timber-look floor tiles, which draw your eye down the wide hallway and into the rest of the home. The natural rustic texture of the flooring adds warmth to the interior scheme by bringing that wonderfully aged washed-timber finish, which is often found in driftwood and weathered timber fencing along the shoreline.

I decided to play a little further with this linear effect by opting for an internal door profile with a vertical panel look, not only does it work for the coastal feel, but it also visually raises the height of the already high ceilings, adding more volume to this already large home.

The Cool Coastal theme of course also provided the design direction for the both the choice of kitchen benchtop, with this beautiful, weathered grey, remember the pebbles that inspired me? and he crisp white in the cabinetry, like the white that you see in the breaking waves. The sea foam green in the subway tiles is of course a logical colour choice that creates a really well balanced and very coastal-inspired scheme.

The final way to emphasise any interior theme is of course through the styling, and in in this home continues the choice of washed timber tones, beautiful cool blues and marine greens, of course with that repetitive crisp white all working to help assert that relaxed coastal feel.

The Kew 27 with its Cool Coastal theme really suits our Australian lifestyle and it may also suit your taste.

To view this interior theme plus many more, Click here.