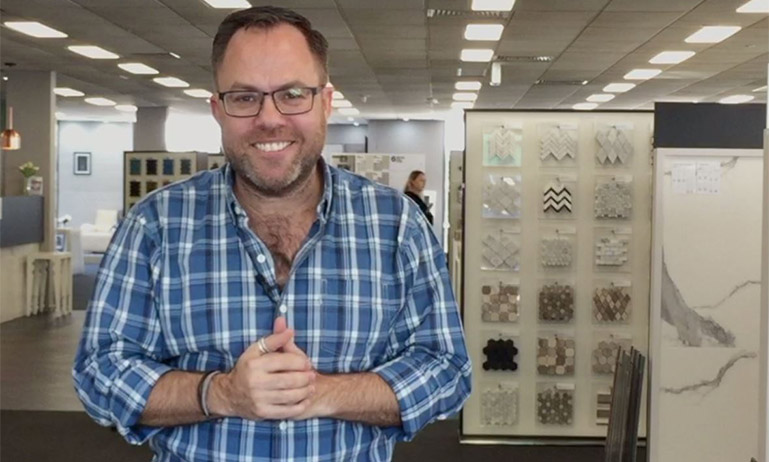 Posted on 9th January 2018
Tips with James Treble: Selecting the right flooring for your brand new home
Watch the latest video from interior designer James Treble on selecting the right flooring for your brand new home. James provides you with some great tips when considering what your options are for selecting your tiles, carpet and timber flooring. Our friends at Di Lorenzo Tiles have showrooms in Sydney and Newcastle so to view a range of types, colours and styles visit a showroom or check out their website.
Transcript
Today we're at the Eden Brae Homes display village at Homeworld (Homeworld Kellyville / Homeworld Leppington) to talk about Flooring. It's an important decision for how our homes look and feel. But of course, it's also about how they perform, because we walk on the floors every day.
There are three main types of flooring:
Tiles
Timber flooring, and
Carpet
...and it's the combination of these that might work to make your home to look and feel the way you want.
There are a multitude of tiles types, colours, textures and finishes to choose for your home. But what I want you to consider, is how it looks when you look through the home… how the home will flow with the tile that you choose and how it will look when it butts against the different flooring as you pass the different rooms in the house.
Where two different types of flooring meet it's always worth considering the colour and texture to make sure that they work cohesively. Tiles are a great option for your main floors, being you're living areas and your entry because they are very hardwearing and easy to maintain. Tiles are of course used in the floors of your wet areas dude to waterproofing, and giving a surface that's easy to clean.
If your bathroom or powder room are placed against the main floor, then the floor tiles of both of those rooms will be seen together so it's worth considering getting the same tile, or a tile that works well when placed next to each other.
Your main flooring will flow off to the alfresco and from the front porch, so it's worth considering how those finishes look together, and whether maybe you go for the same tile to give you a continuous flow.
Timber floorboards are always a popular choice adding warmth and texture to any home. And because of the long boards, you end up with these long lines that direct you in and through the home. And in the same way that a tiled floor can seamlessly flow out to a tiled alfresco, a timber floor can run out on to a beautiful timber deck.
Carpet is another popular choice especially in bedrooms, where you want something that is soft underfoot, and a little bit cosy. Carpet is also the perfect choice for your home theatre or TV room, because it absorbs sound. It stops the echoing effect, which you can get with hard floors like timber or tiles… so it's a perfect choice for your home cinema experience.
As you can see there is an extensive range of carpets both in colour and style to choose from, and there is also an immense amount of timber flooring, both in solid and laminates, which will give you the look which you're after.
As part of the building process with Eden Brae Homes, you will have a dedicated flooring appointment, which will also include the tiling for your new home at Di Lorenzo. And remember, as I always say, do your homework. Bring along some pictures of the look that you like, and have a think about how you want the home to perform. That way, the team behind me can help to make sure that your house looks exactly the way you want.