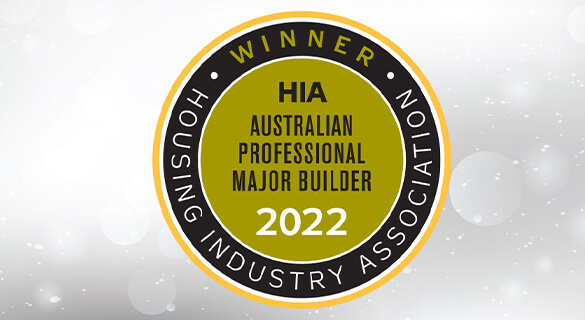 Posted on 29th April 2022
Eden Brae Wins Prestigious Australian Home Builder Award
Eden Brae Wins Prestigious Australian Home Builder Award
Eden Brae is thrilled to be announced as winner of the coveted 2022 HIA Australian Professional Major Builder award.
We first won this national accolade in 2018. To win again is proof positive that our customers' confidence in our ability to provide excellence in construction and customer care is well founded.
The HIA-CSR Australian Housing Awards are the ultimate platform to showcase the talents of Australia's top home builders and designers. The Australian Professional Major Builder recognises builders who demonstrate their commitment to business management, customer service and relations and leadership.
Such a fantastic achievement is made even sweeter by Eden Brae also being announced as winner of the equally prestigious MBA National Business Excellence Award for Large Residential Building Business of the Year
Eden Brae's achievements are a clear reflection of our commitment to making home ownership within the reach of most Australians. This focus, combined with our holistic, hands-on approach to management at every level of our business, translates into a strongly supported customer experience throughout the entire home-build journey.
An 100% Australian-owned company with a genuinely customer-centric approach, Eden Brae builds beautiful homes backed by quality workmanship and our BuildSure Guarantee, giving customers the peace of mind that comes from knowing their builder is a builder they can trust.
The Eden Brae culture is one of innovation and improvement, allowing us to better respond to challenges facing our customers. National recognition as being the 'best in the business' is strong evidence indeed of our unrelenting drive for customer service excellence in every aspect of the home construction process.
To start your new home build journey with the best, call Eden Brae Homes on 1300-645-860.