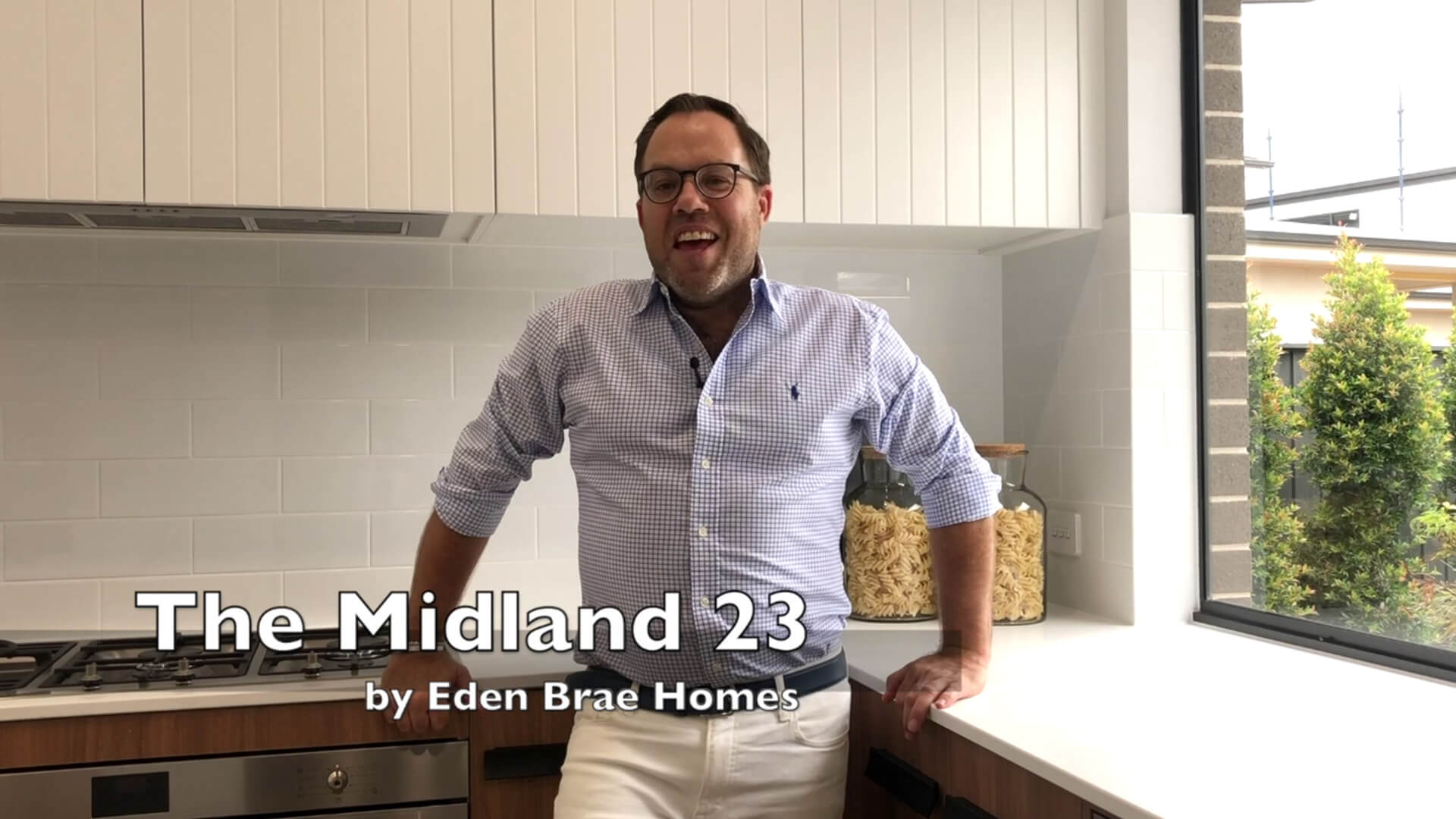 Posted on 20th September 2021
Tour with James Treble: the Midland 23 HomeWorld Box Hill
The Midland 23
Video transcript
If you're looking for a large single-storey home for you and your family, well, this might just be it. The Midland 23 is a spacious four-bedroom design, so join me now as I take a walk through to see all that it has to offer.
The moment you enter this home you get a great feeling of space, and it has a lot to do with this long hallway that leads you down through and into the open living area. But another feature of this floorplan is this very generous opening to the master bedroom. The one and a half door creates a grand entrance, but it also allows natural light from that room to flood into the hallway as well.
This large living area located in the centre of the home is one of two separate living areas in this design. It allows the family to engage in separate activities at the same time.
Next, we have the three family bedrooms; two of them are located next to each other and the third one is off its own separate hallway, next to the family bathroom. Family with different age children know that having space can be so important. The location of this third bedroom makes it perfect for a guest's bedroom or even a home study. As you can see this layout provides plenty of options for different family dynamics.
Open plan living is a big part of how we live here in Australia, and this room is a great example of just that. This combined family, dining and kitchen creates a great open-plan space, and yet the design allows the dining and family areas to feel separated when required. And sliding both of those banks of glass doors back makes this space feel even larger and links it perfectly with the great outdoors.
Two important features of any kitchen are bench space and storage, and this clever design includes plenty of both. Because of the clever way this kitchen is placed this large servery provides plenty of space to cook up a storm. allowing you to still engage with your family or friends when entertaining.
A great feature of this floor-plan is the amount of natural light. It's normal for a home to have a window located near the sink, but this home has another large window on the other side of the kitchen. It allows natural light to flood in from both sides. And with a generous amount of bench space wrapping in and around the room this kitchen is perfect for any buddying chef.
The butler pantry in this home design is very cleverly located. It allows you to have plenty of storage options out of view from the rest of the house. And as if there was not enough bench space in the kitchen it continues here as well. This is a great preparation area.
The Midland 23 has a clever and practical floorplan that's perfect for large families. And because it's also a spacious home, it's perfect also for those looking to downsize. You can come and see it for yourself right here at Homeworld Box Hill, or why not do the virtual tour online at edenbraehomes.com.au.