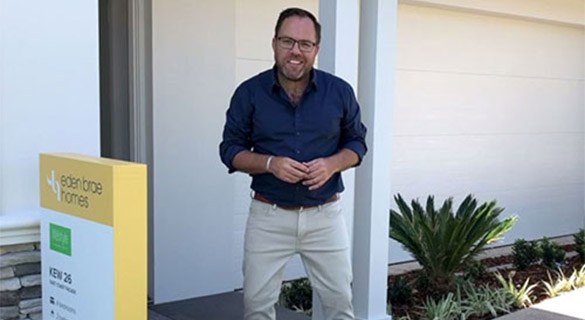 Video | Display Home Tour
Tour with James: Introducing the Kew 26
Kew 26 – East Coast Façade – HomeWorld Warnervale
Imagine living in the Hamptons…welcome to the Kew 26 now on display at HomeWorld Warnervale. James Treble interior designer takes you on a tour of this stylish home featuring a Relaxed Hamptons interior theme.
Transcript
Hello and welcome to HomeWorld Warnervale, up here on the Central Coast. I'm here today to check out the Kew 26, the latest display home by Eden Brae Homes. This is a four bedroom, two bathrooms single storey and it might be perfect for your new home, so let's go inside and check it out.
Making an entrance is always important and this floor-plan has a very generous entry foyer, that's perfect for you to furnish any way you like. At the front is the study, which is far enough away from the rest of the home to provide a quiet space, perfect for the home office. Also located at the front of the home is the generous master bedroom, with great storage options, having its own walking robe, plus that beautiful light and airy ensuite.
In the centre of the home there is a great feeling of space, but the KEW 26 also is a very practical design, because you've got the internal access to the garage, a large family laundry, plus two separate linen presses, one of them is a walk-in, offering great storage solutions.
Also, in the centre of the home is this large movie theatre, which is perfect for movie buffs. This is actually the first of three separate living areas in this home which provides great options for a busy family.
This is the large family, dining and kitchen room and this is one space that I would spend all of my time in. It's a dream kitchen, it's got so much bench space that it's perfect for cooking or when entertaining with family and friends. This floorplan allows for a massive kitchen island, with plenty of storage. It also has a very generous walk-in pantry.
A separate hallway accesses the three additional bedrooms, plus that well-fitted family bathroom. Now, this is a great feature of the KEW 26, because it offers and nice sanctuary for the bedrooms that's easily accessed, yet cleverly separated from the rest of the home.
The hallway also offers great flow through this home and an additional entry to this great rumpus room, the third living area in this really well considered floor-plan. The functionality of this floor plan continues with this great flow from the rumpus, dining and living room out to the alfresco, offering great opportunities to entertain with your family and friends in the great outdoors.
As you can see the KEW 26 has a lot to offer and is well worth a visit to come and walk through for yourself, which you can do here at HomeWorld Warnervale. Or enjoy the virtual tour at edenbraehomes.com.au