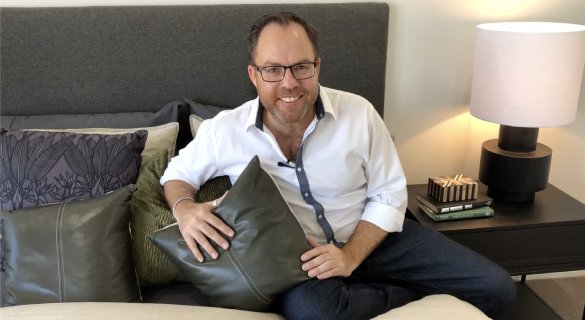 Design Tips with James Treble: Wetlands
WETLANDS - Video Transcript
The Maine 24 - HomeWorld Leppington
When it comes turning a house into a home it's all about getting the right balance of selections and finishes to create a look and feel that makes you want to live in the space. This home right here ticks all the boxes for me, but I might be a little bit biased as I was asked to work with the Eden Brae design team to create this beautiful display home. This is the Maine 24 and I'm here at Leppington Homeworld.
I developed a concept that I called Wetlands. The Wetlands to me are a calm and soothing space, but the colour scheme is a mixture of muddy greens and earthy tones. And it's a colour palette that works beautifully inside a home as it's warm and inviting. To work with this on the outside of the home I chose a brick that was going to give me a nice grounding for the house. When it came to choosing the balcony railing I went with a nice horizontal lines. These horizontal lines actually, elongate the façade and make it feel wider.
The entry in every home is a very important space, and because this one happens to fit on a narrow block, it's not an overly large space. Yet, it's got beautiful height, so, getting the right staircase combination was very important. For this I chose a beautiful white stringer, this timber part of the staircase, and went for an open stairs design.
When it came to put the interior colours together of course this starts off with the floor. I chose this beige colour which is a slightly grey off tone. It means that it's not too creamy but it's still calm and inviting.
Now, when it comes to your kitchen, getting the right combination of finishes makes it inviting, but it's also a room that is viewed from the living and dining and of course your alfresco. For this I wanted to add some beautiful timber tones, again, remember the theme I'm working with, and I decided to put that in the overhead cabinets as well as the bar back. For the benchtop I wanted a nice crisp white, just to make it feel bright and inviting. Now, don't forget when you are looking at a kitchen design that you are adding additional details, in your lighting and your accessories… and by also having these in black it helps balance the space.
A great feature to have in your home is a free-standing bath and to make it pop even more you can add a feature wall behind it. To work further with the theme, I added the timber again in the vanity and I went for a beautiful round mirror, against all the straight lines of the tiles. This is a very calm and welcoming space, perfect for a family bathroom.
My Wetland's theme has created a beautiful calm palette right throughout the home, but I still want some contrast and I've done this through the doors. By choosing a darker door I've added contrast to the space, but it's not as heavy as black and white, because it's still a nice neutral muddy tone working with the overall scheme. And don't forget the profile of your door, there are many to choose from. I chose this particular one because this little rout detail adds a nice vertical line to make my doors feel higher and adds a little bit of interest.
Now, finally, don't forget when it comes to styling your own home that you got to add some key words: these are texture and pattern and contrast. By mixing together a range of elements you create a space that is visually interesting and is also nice to touch as well.
You can come and check out the styling here in the Maine 24 as well as the other Eden Brae display homes at Leppington Homeworld. Or do the 3D tour and jump online at edenbraehomes.com.au