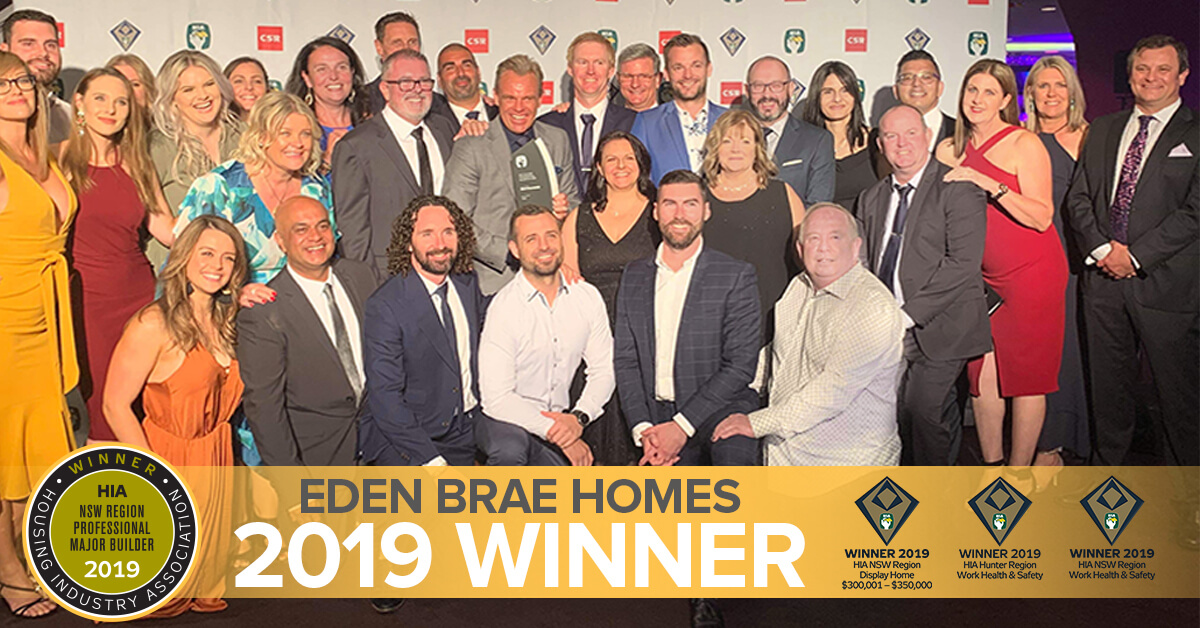 Posted on 23rd October 2019
HIA-CSR NSW Housing, Kitchen & Bathroom Awards
2019 has shaped up to be another hugely successful year for Eden Brae Homes. This month we scooped up a number of major titles in the HIA Awards for the Hunter and NSW regions. These well-deserved wins are testament to our commitment to continual improvement and providing an increasingly positive customer experience.
When it comes to the home construction industry, the HIA Awards represent the pinnacle of success. Being nominated in a number of categories across the NSW and Hunter Regions, we're particularly delighted to have won not one, but four major categories this year:
HIA Professional Major Builder – NSW Region (Finalist in the Hunter Region)
Display Home >$300,001 to $350,000 – NSW Region
Work Health & Safety – Hunter Region
Work Health & Safety – NSW Region
Winning is a joint effort and in accepting these awards we acknowledge the contribution of everyone in our fantastic team who works so hard to make Eden Brae Homes the best it can be.
Judges were particularly impressed with Eden Brae's capacity for innovation and going the extra mile for customers and staff alike. In praising our efforts, they said, 'Eden Brae Homes are to be congratulated by the judges for having a strong emphasis on continuous improvement in their business; helping to maintain relevance in their market. Over the past year they initiated "virtual" customer communication channels, provided English lessons to assist a number of contractors and improved their employee ideas hub.'
Competition in our industry remains as fierce as ever, so being agile, responsive and innovative is essential to keep one step ahead of the game. By keeping the needs of our customers firmly at the centre of all that we do – every day and in every way – Eden Brae Homes remains true to its core values, delighting new homeowners by successfully delivering outstanding value combined with design excellence.