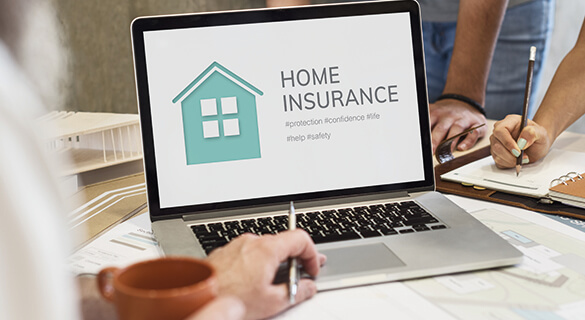 Posted on 25th January 2022
What insurances do you need before your home build completes?
Before the day of the final completion of your new home build, it's absolutely essential to have certain insurances in place. Whilst this may be one of the least exciting aspects of building a new home, making sure you are properly covered before you move in gives peace of mind that your possessions and home will be well-protected.
But even before then, prior to signing your contract with your builder you'll need to be confident that they have their insurance in place, too.
You'll need to have home insurance and contents insurance before you move in, and your builder needs to have Home Building Compensation Fund (HBCF) cover. (This used to be called Home Warranty Insurance.)
Home insurance – what is it and what does it cover?
Home insurance is simple and necessary. If you're a home owner now, you probably already have it. It protects you against paying for damages to your home caused by unexpected events like storms, fires or floods. It also covers costs like temporary accommodation if you're forced out of your home for an extended period.
Home insurance can often be bundled with home contents insurance (see below) through one insurer to reduce your costs.
Our tip: Compare three insurers' policies to make sure you'll have the coverage you need at a premium that works for you. And ask about combining your home insurance with your contents insurance for a discount.
Post lock-up contents insurance
Your TV… your jewellery… your priceless guitar… these are the precious items that contents insurance covers if they are damaged or stolen. Contents insurance is needed after the lock-up stage when you've moved your furniture in and begun to turn your house into a home.
Better yet, since you own your property, you can roll Home and Contents Insurance into one policy, saving you time, paperwork and money.
Our tip: As with home insurance, compare three insurers' policies to make sure you'll have the coverage you need at a cost effective premium. Ask if combining your contents insurance with your home insurance will result in a discount.
Home Building Compensation Fund (HBCF) (formerly called 'Home Warranty Insurance')
All licensed builders and tradespeople in New South Wales about to undertake a home building project valued at $20,000 or more, including GST, must have HBCF cover. It's a legal requirement and they must give you proof of their cover before they start work or ask for a deposit.
HBCF provides coverage for damages if they are a consequence of your builder. This isn't just during the build process; HBCF covers you for up to six years to ensure long-term faults are accounted for.
Cover protects you against financial loss suffered by you, and any subsequent owner, as long as the policy has not been exhausted by a prior claim, where the contracted building work is incomplete or defective and the builder has either died, disappeared, become insolvent during construction or has failed to respond to a rectification order within 30 days of it being issued.
When you work with a reputable company like Eden Brae, you have peace of mind that HBCF cover is in place.
Our tip: If your builder hasn't shown you their Certificate of Insurance for HBCF, ask to see it before you sign the contract.
If you've got more questions about what insurances you need to keep your new home protected, feel free to give us at Eden Brae Homes a ring on 1300 645 860