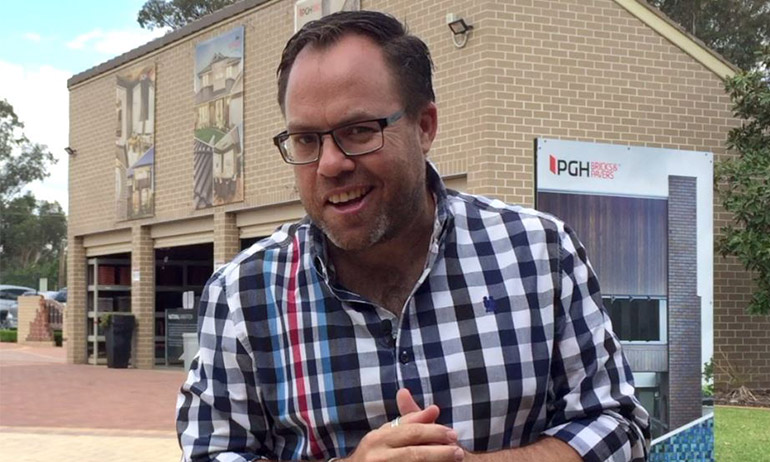 Posted on 6th November 2017
Design Tips with James Treble: Choosing your brick selection for your new home
Exclusive to Eden Brae Homes, James Treble interior design and celebrity stylist visits PGH Bricks where he offers you some great tips to help you make the right choice when it comes to brick selections.
Transcript
Today I am out in beautiful Schofield, at the PGH selection centre, and we are going to talk about the brick selection process for your brand new Eden Brae Home.
When you first enter you will find some very helpful staff that are happy to go through your plans and talk about your ideas for the outside of your home. They also have some fantastic selection boards already created with set schemes that are going to inspire you… and who knows, you might like one of these and use them on your own home. PGH also have these fantastic display boards showing three of each brick so that you can see how it looks together, and it's easy to select. Once you have selected your bricks you can then use this very clever display stand that will help you to put your scheme together. You simply slide in the bricks, pick your roof tile, match your gutter and your fascia, maybe add a nice render detail or window colour… and why not, add some cultured stone. There you have it!
Of course, to really make sure that you've got the right brick for your home, you should look to a wall of bricks. And that's why you come to a selection centre. PGH have walls and walls of bricks on display so that you can see how that brick looks outside... just how it's going to be on your new home.
Now, your new home is usually costed in a standard range of bricks, and these are all here on display at PGH. But there is a world of bricks to choose from, and changing the colour, texture or style of the brick, can completely change your home, allowing you to personalise it and make it look the way you want.
There are textured bricks, beautiful modern smooth-faced bricks, and sandstock bricks, giving you the traditional look. There are splits bricks, offering you that designer edge for a feature wall in your home… and there are high-gloss coloured bricks, which might be the perfect choice for a feature wall, outside the home or maybe even inside.
Another important aspect of choosing the bricks for your home is choosing the right mortar. On display here we have the same brick with two different mortar finishes. Here we have a flush joint, meaning that the cement, the mortar, is flush with the face of the brick. This is a raked joint meaning that the brick looks more profound, giving you a different character to the wall of your house. There is also an iron joint which sits halfway between flush and raked, still giving you the brick definition without the deep indent of a raked joint.
It's also worth considering upgrading to a dry press brick, meaning a solid brick instead of an extruded. The reason is the thermal qualities because it takes longer for it to heat up and to cool down, which is great for summer and winter.
Once you've selected your bricks you can grab a bag from the very helpful staff so that you can take a sample with you and bring them to the Home Option Gallery selection appointment.
Now finally, don't forget to bring photos of homes that you like… bring along your floor plans, bring along all of your ideas so that the staff can help you select the right brick for your home. This is a big decision, and it can completely change how the home looks. So, put a little bit of thought into it and have some fun. I'll see you next time.