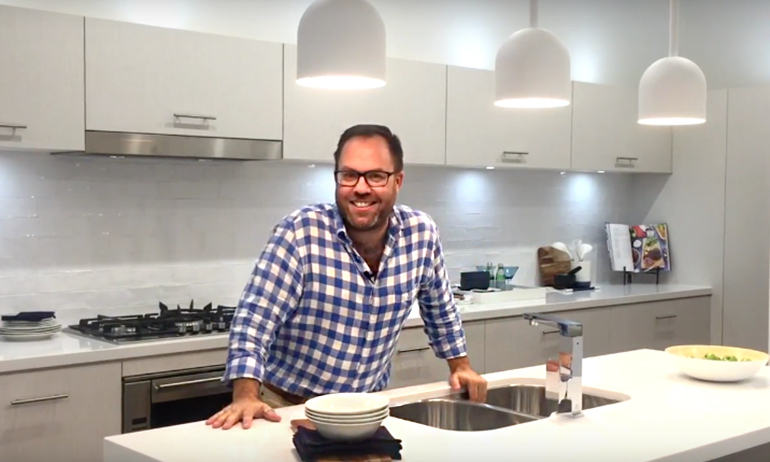 Posted on 10th February 2017
Lighting Tips with James Treble
The lighting within your home can make a big difference to look and feel your trying to achieve. Listen to Interior design guru James Treble give some advice on how to use lighting in your home to set the mood.

Transcript
When we're building a new home we spend a lot of time making sure we get the right façade and the most amazing kitchen. But lighting is one key element that is often overlooked. I want to explain to you the key elements of lighting, so you can use this knowledge to add value to your home and make it perfect for your family.
There are three main types of lighting.
The first is Ambient Lighting: this is the main lighting source in the room. It might be an oyster fitting in your bedroom or all the down-lights of the main living areas.
The second type of lighting is Task Lighting and as the name suggests it's about illuminating a space for work, for a task. So this is the lighting above your kitchen benchtop or the table lamp which you have sitting on your desk in the study.
The third type of lighting is Accent Lighting and this is actually my favourite. This is the way to add personality to a space. It's the lighting you can use above your kitchen island or the dining table. It's those table lamps that are on either side of the sofa or your bed. It's also that beautiful lamp that lights up the corner, adding mood and character to a space.
The standard layout of lighting in a home will usually consist of one main lighting source in each room. But to create a successful room it's actually the combination of the three different types of lighting that makes it work.
In the next picture we can see Ambient lighting, but instead of just one main light source, it has become a flood-lit room of down-lights.
We also have Task lighting, which is actually built under the wall cabinets. This lights up the bench-spaces, but also it helps to highlight the beautiful splashback tiles.
The final layer of lighting is the Accent lighting and it's the beautiful pendants hanging above the kitchen island. These also work as Task lighting because not only they add character to the kitchen but they help illuminate the bench-space whey you're preparing a meal or dealing with your guests.
Just like inside, Accent lighting lets you add character and highlight the features of the external of your home.
A key area to remember for your Accent lighting are the entry foyer and hallways. A great light fitting here adds personality and drama. But you don't have to use only a feature light or a pendant for Accent lighting. As shown in the picture three down-lights illuminate the artwork and actually help the space feel wider. And remember, space adds value.
The dining room is also a space to consider for lighting. You already have Ambient lighting in the ceiling, so adding Accent lighting will help turn your dinner party into something special.
As you can see, Lighting is the final layer that helps you turn your house into a home. So look at your floor plan, consider where you can add some feature Task and Accent lighting. It will help you add both character and value to your home.