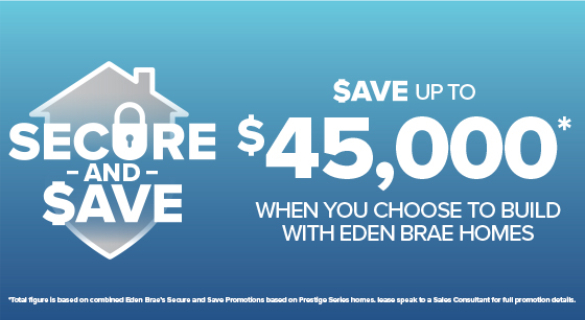 Why you should Lock in your fixed price today
With an ever-changing housing market where the demands from trades and suppliers require price increases to building costs and materials and the unfortunate interest rate rises, now is the time to secure a FIXED PRICE contract for the build of your brand-new dream home.
Eden Brae's Secure and Save promotion allows you to lock in your home design, luxury inclusions and fixed price site costs for up to 18-months at no charge. This Price Lock will save you thousands of dollars and peace of mind for when you are ready to start your home build within the next 18 months.
Here are some reasons as to why you should secure a builder like Australia's Most Professional Builder - Eden Brae Homes to assist with your home build journey.


Lock in your base price at current prices


Being mindful of the demands in the housing market from suppliers and trades forcing prices to increase more frequently, now is the time to secure the right builder for you to ensure you continue to work to your budget.

Your land may still be a year away from registering, however, by locking in your base price today and starting your construction within the next 18 months, Eden Brae will not only offer you Peace of Mind but a FIXED PRICE Buildsure Guarantee.



Price Lock in the current promotions


If you love the inclusions currently on offer with our Build with the Best promotions, then you can lock these in now for your home build later. By securing an 18-month Price Lock of your home design price, you can also work with Eden Brae to secure the relevant luxury inclusions package suitable for your home design series to complete your dream home.



Selecting the right home design for you
Eden Brae Homes offers a variety of functional and contemporary floor plans to suit a range of land sizes and budgets. You can choose from home designs in our Advantage, Lifestyle or Prestige Series with a variety of options to suit your family's needs from multigenerational living, to upsizing or downsizing, making it exactly where you want to live!


Allocated Site Start Month


Many builders offer pricing periods that may never be achieved and clients incur costly price increases prior to the commencement and during their home build which can cause financial stress.

At Eden Brae Homes, we make a point of limiting the number of homes we start every month to ensure our capacity is not exceeded. This practice allows us to forecast the commencement and completion of your new home – consistent with our Procedure of Purchase.

By locking in your 18-month Price Lock, we can allocate your site start month. Should your land be delayed with registration, Eden Brae will work with you to secure an appropriate start month based on your circumstances.



Making your design your dream home


When it comes to a home build, there are so many decisions to make which can be overwhelming and stressful. Take advantage of discount offers like our Secure and Save promotion. By securing and locking in your house price, promotion for luxury inclusions and fixed price site costs for up to 18 months at no charge will save you thousands of dollars and help you complete your dream home. The remainder of your build journey is the fun part. You can spend your time planning on how you would like to style and decorate and more importantly live in your brand-new home.


There has never been a better time to Secure and Save!
Eden Brae Homes can assist you with all your home build needs, call us today on 1300-645-860 for further information on how to take advantage of our Secure and Save promotion.