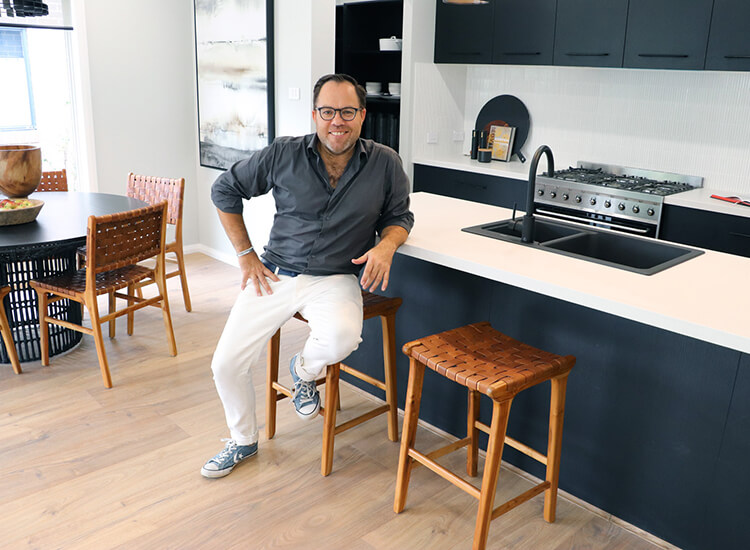 Video | Display Home Tour
Posted on 15th April 2020
Tour with James: the Kew 25 MK2
The ample space of the Kew acts as an oasis away from the hustle and bustle of modern life. Families will appreciate relaxing in the generous living spaces and deliberately separate private areas that this well-considered layout provides. It even features a home theatre where everyone can get together and enjoy a great night in. The Kew is home design at its best.
Transcript
The Kew 25 MK2 is a large single-storey family home. It's got a very practical well thought out floorplan which is perfect for family life and entertaining, so join me as we take a walk through this great home.
The entry in any home is always important, it helps to set the mood for the rest of the home when your guests, family and friends arrive. This home has a spacious entry which gives a welcoming open feel. Allowing for natural light to flood into this space makes it feel even larger.
The master bedroom has its own walk-in robe and ensuite, and the wrap-around window on this façade allows plenty of natural light to flood on in. Because the master suite is located at the front of the home it's separated from the other living areas providing a quiet sanctuary and privacy.
Making your way down the hallway you come the first of three separate living areas of the Kew design. This room is perfect for a home theatre or for the kids to play on their own and get creative.
In the centre of the home is a great feeling of space, but it's also a very practical area. It brings together the garage internal entry and a light filled laundry, plus there are two linen cabinets here, one of them is a walk-in.
When selecting the finishes for your laundry, don't forget that by adding additional cabinetry you not only gain extra storage, but also a very practical bench space. Of course, this room should always be functional, but creating a great looking space means that it's also a room you want to spend time in.
Making your way down the hallway you come to this bright and light filled open-plan kitchen, dining and family room, and because of this generous floor-plan this home allows for a large kitchen, which is great for busy families as well as entertaining with guests.
This great size rumpus room is the third living area in this home. Located at the back of the home it's got great views to the backyard and it's got easy access to that huge alfresco. This is the perfect space to entertain family and friends, or a nice area to spend time on your own, maybe with a book.
And when it comes to entertaining, which we all love to do, the Kew 25 has got the lot, with the Rumpus, Family and Dining areas flowing seamlessly out to this fantastic alfresco.
This separate hallway allows the three bedrooms and the family bathroom to be a quiet zone, with its own privacy, separated from the activities of the rest of the family. This is a really clever design, because even with the house full of guests, the access between the bedrooms and the family bathroom is made easy and private.
The Kew 25 MK2 offers a spacious and clever floorplan and adding your own personal touches will turn this great looking house into the perfect home for you. You can come here and take a walk through this home yourself, right here at Homeworld Marsden Park, or why not take the virtual tour online, at edenbraehomes.com.au.