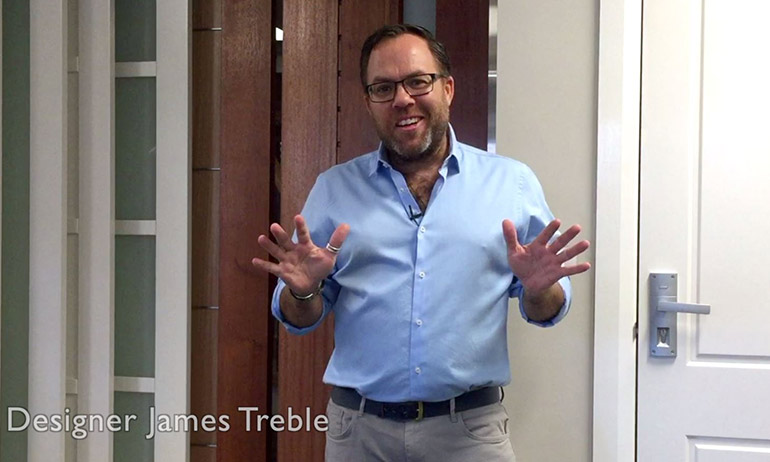 Posted on 6th February 2018
Tips with James Treble: Selecting the right doors for your home
Interior designer James Treble provides some great advice when it comes to selecting the right doors for your brand new home. Doors are an important feature to your home and making a great first impression is important to your overall home design.
Transcript
When is a door not just a door? When it's a Corinthian Door, and it's part of your brand new Eden Brae Home. I'm here at Home Option Gallery to look at the range of Corinthian Doors that are available for both inside and outside your home. Now, as part of your selections, these are dealt with in two separate appointments: by your Home Options colour consultant and the Geldwin representative. There is a huge range of doors finishes and styles for your front door. This is a first impression - this is the first thing that people see when they come and visit your home.
The design and finish of your front door will work in unison with your front façade, so discuss this with your colour consultant and they'll gladly advise you as for the best looking door for your home. Is it going to be stained, painted, 2.4 metres high… is it going to have a glass insert to let in lots of natural light? Maybe you want a grand feel and have a double set of doors to walk in, or a 1200 wide door adding to the feeling of space and light.
The standard door inside your home is a flush door, meaning that it has no internal details, and its height is 2100 high. Now, that works very well if your ceilings are 2400 high, but if you have raised the height of your ceiling to 2.7 metres, or 2700 high, then it's well worth raising the height of your doors as well, to add to the feeling of space inside your rooms and to let lots of beautiful natural light flood into your home.
There is also an extensive range of door profiles when it comes to the inside of your home. Some of them have a very subtle little detail; others have a deeper profile and bigger panels. And don't forget the option of adding glass to the doors. Clear glass can be a decorative way of closing off a room but still looking inside. Translucent glass gives you all of the benefits of natural light flooding into your house without having to look into that messy study or the laundry.
One very popular range of Corinthian is the Deco range. They have a very shallow rout detail in a huge range of design options.
Another important but very often overlooked detail in a home is the skirting and architrave. This is the timber detail that goes along the floor in your rooms, around the windows and around the doors. Now… you will have a standard range of designs to choose from included in your house package. But you also have upgrade options: to change the style and raise the height, which may be just the right thing to elevate your house and get the look that you're after.
Of course, part of building with Eden Brae and coming into the Home Options Gallery means that you are going to deal with a specialist who is going to give you the best advice to make sure that you make the most of this appointment. And remember, like every aspect of building a brand new home, Preparation is key. Do your homework, walk through the floor plan consider the placement, style and height of the doors. Look in the display homes… that way you will get the home looking the way that you want it to. And as to your doors, it will be a simple open-and-shut case.